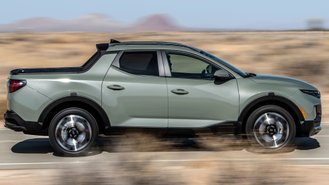 The all-new Hyundai Santa Cruz may be a worse truck to lease than the Ford Maverick, based on a recent dealer incentive bulletin. That's because the Hyundai appears to have a disadvantage when comparing residual values.
As we reported earlier today, the 2022 Santa Cruz SE debuts with a $269/month lease deal that may be cheap on paper but falls surprisingly short when it comes to value. The offer is based on a 36-month residual value of 60%.
That's not bad, but it's less than Ford Credit's residual on the 2022 Maverick. The Maverick XL Hybrid has a residual value of 62% based on 10,500 miles a year. The Maverick with the highest residual is the XLT Hybrid at 64%.
Believe it or not, a midsized Honda Ridgeline may be a better deal. While it isn't cheaper to lease, it does have residuals as high as 69%. That may explain why the Ridgeline is $12,500 more expensive but just $58/month more to lease.
While Ford doesn't have a lease deal yet on the Maverick, we do know that leasing one has an important catch. As we reported last month, the entry-level Maverick XL Hybrid will actually be excluded from promotional lease deals.
As a result, making an apples-to-apples comparison may not be as straightforward as one would expect. We recommend comparing your options carefully if you're looking to get the best bang for your buck when leasing a new truck.