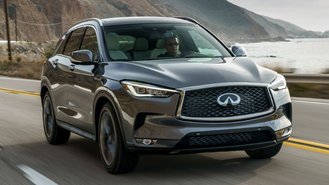 Discounts on the all-new QX50 have quickly ramped up, making it a great time to buy or lease. In fact, a recent price cut has resulted in a $40/month improvement in monthly payment, while a $1,500 conquest bonus offers extra savings for those looking to switch brands. However, there's a catch worth knowing about.
Here's what you need to know.
Offers assume a Los Angeles location unless noted otherwise
$40 Price Cut
On May 26, Infiniti added a $1,000 national dealer cash incentive on the 2019 QX50. The catch is that only well-equipped "Essential" trims are eligible for the extra savings.
Although the QX50 is priced from $37,545, the Essential starts $6,800 higher at $44,345. As a result, choosing the more expensive trim could be a smart move since it's eligible for better discounts.
The featured lease on the QX50 Essential is now $409 for 39 months with $3,499 at signing. The offer comes with an allowance of 10,000 miles per year and equates to an effective cost of $499/month.
That's a $40/month improvement over the deal from earlier this month. Opting for all-wheel drive adds $500 to the amount due at signing and ends up being $13/month more expensive.
If you're coming from a competitor, there's an added bonus.
If you're buying, you may be eligible for a $1,500 conquest bonus for coming from any of the following brands: BMW, Mercedes-Benz, Audi, Volvo, Cadillac, Lexus, Acura, Toyota or Honda.
A smaller $500 bonus is available when leasing. Here, too, the catch is that Essential trims are the only styles eligible.
At $499/month, the latest deal marks the best lease we've seen since the vehicle's introduction back in February. We consider this a pretty good value given the vehicle's MSRP of $44,345.
However, that's still $49/month more expensive than a Lexus NX 300, and $67/month pricier than an Acura RDX with Technology Package. Having said that, the deal on the QX50 is for a very well-equipped model.
We still don't consider the QX50 to be cheap, but shoppers looking to get a deal are more likely to see lower prices at their local dealer compared to earlier this month.