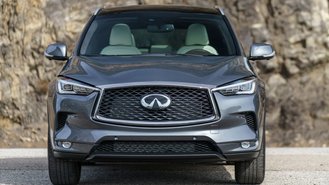 Jaguar and Infiniti are offering luxury car shoppers a way to lease a car ahead of the Presidents' Day holiday. The moves are in line with automakers' efforts to cater to driving habits due to the pandemic. While there are some key differences worth knowing about, the new lease deals can be up to $60/month cheaper than before.
In Infiniti's case, shoppers now have the ability to opt for a 5,000 mile-per-year lease on any model and boost a car's residual value by 5%. Compared to a typical 10,000 mile-per-year lease, the brand says this can lower monthly payments by anywhere from $20-25/month on most models to as much as $50 on a QX80.
According to a letter sent yesterday to dealers across the country, Infiniti makes the case in clear terms: "As we know the market and driving needs are changing in today's environment; more working from home and limiting trips to the most essential (sic) Infiniti wants to satisfy our clients (sic) automotive leasing needs."
Meanwhile, Jaguar is taking a targeted approach with 7,500 mile-per-year leases on the F-TYPE sports car and all-electric I-PACE. On a 2021 F-TYPE P300 Coupe, the British manufacturer's featured payment has fallen by $60 from $559/month to $499. The price cut is also the result of a new $1,500 Spring Sales Event Bonus.
While lower-mileage leases could make sense given the state of the pandemic, shoppers should be mindful of the potential cost of overages. For example, Infiniti charges $0.25/mile while Jaguar charges $0.30. With the latter, an extra 5,000 miles of annual driving on a 36-month lease could add up to $4,500 in overages.
Well over half a dozen brands have made similar moves since late last year. It's not just luxury brands, too. While Lexus and Lincoln were among the first, even mainstream brands like Honda, Mazda, Toyota, and Nissan have added lower-mileage leases to offer consumers a greater array of options to choose from.