Infiniti has been setting sales records with an updated lineup led by the Q50 sedan and all-new QX30 crossover. This month, the automaker is hoping to maintain that momentum by employing a tactic it almost never uses: cash incentives.
Rebates are generally taboo among luxury brands that have spent years cultivating an image of exclusivity. Infiniti appears to be running counter to that with up to $2,000 on the hood ahead of Memorial Day.
So what do the deals involve? Which models are eligible?
Here's what you need to know.
Deal Overview
Through May 31, Infiniti is offering a Spring Bonus worth up to $2,000 on four key models: the Q50 sedan, Q60 coupe, QX50 SUV and QX60 SUV.
Amounts vary based on model, but also depending on whether you intend to purchase or lease. For the most part, offers are more generous when buying.
Amounts are as follows:
2017 Infiniti Q50 Sedan: $2,000 toward purchases, $1,000 toward leases*
2017 Infiniti Q60 Coupe: $1,000 toward lease or purchase
2017 Infiniti QX50 SUV: $500 toward purchases
2017 Infiniti QX60 SUV: $2,000 toward purchases, $1,000 toward leases
*Note: The Q50 Signature Edition is excluded.
What's nice is that the offer can be combined with promotional financing at rates as low as 1.9% APR. For comparison, rates from BMW actually worsened this month to 3.24% APR, while Mercedes-Benz and Audi have both been holding at 2.9% for months.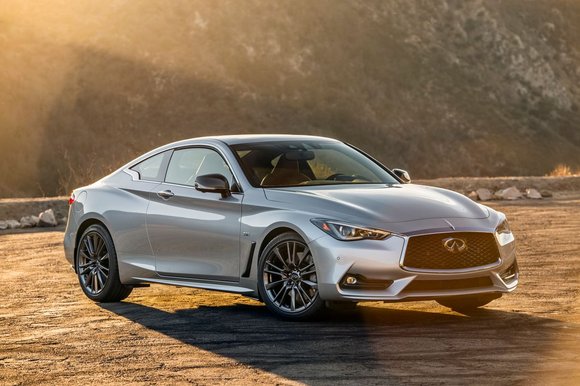 Current Infiniti customers should be aware that they have the ability to stack the bonus with loyalty incentives. For example, there's a whopping $3,000 loyalty bonus on the Q60 Coupe for anyone coming from an older G35 Coupe, G37 Coupe or Q60 Coupe. Altogether, that's $4,000 in savings plus 1.9% APR for 60 months.
When asked about the promotion, Infiniti spokesperson Paige Presley had this to say: "For our Spring Event, which starts this week and will continue through May 31, INFINITI is offering a Spring Bonus that we anticipate will keep us competitive in the premium space, enhance brand awareness, and ultimately continue the momentum we have so far this year by driving strong traffic in our showrooms."
But will the brand risk damaging its image? Maybe not. Lexus introduced cash incentives worth up to $2,500 last year without ill effect. And the truth is that luxury automakers like Mercedes-Benz and Infiniti have historically not blinked at using thousands in unadvertised dealer cash incentives to remain competitive.
That said, we think that especially with Memorial Day on the way, shoppers are bound to be receptive to the thought of getting a better deal. Will Infiniti's gamble pay off? That remains to be seen.