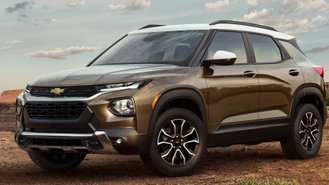 Chevy has launched a Red Tag sale to end the year, promising new car shoppers "the price you see is the price you pay." However, our analysis finds that the price you see may not actually be any different from last month and could be a bad deal when comparing current Chevy incentives with past holiday car sales.
As of yesterday, Chevy is offering $500 "Red Tag Bonus Cash" on select models. That may sound like a good deal, but a closer look finds that it's basically the same discount as last month's Cyber Cash sale. The offer is available whether you buy or lease and can be combined with most Chevy deals through January 3rd.
Leasing a Chevy may not offer the deal you expect even though we're approaching the end of the year. In fact, Chevy's advertised lease prices remain completely unchanged because, rather than including $500 Cyber Cash, prices now include the $500 Red Tag bonus. There's also the fact that many models have sold out.
Eligible 2021 Chevy models include:
Eligible 2022 Chevys include:
That may seem like a decently-sized list of vehicles until you consider that inventory data indicates that the only 2021 Chevys still in stock are limited to the Malibu, Blazer, and Silverado. While there's still a $1,000 Costco discount on select models, current availability could significantly limit your choices.
Sadly, the latest incentives are nowhere near as good as past Chevy holiday sales. For at least the past couple of years, you could reliably expect to find GM Employee Pricing in December. A year ago, you could score $8,300 off a Silverado. Now, the largest factory discount is worth a mere $1,500.
That isn't to say there aren't deals to be had. For example, you can still find 0% financing for 72 months on the 2022 Trax, Equinox, and Blazer. Odds are you won't find a deal that good from competitors like Honda and Toyota. Depending on your priorities, now could end up being a good time to buy a Chevy.