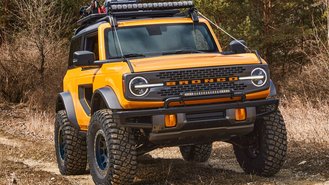 With the imminent arrival of the highly-anticipated Ford Bronco, SUV shoppers will undoubtedly be weighing whether they should buy or lease. Interestingly, there are some quirks that can actually make the Bronco a surprisingly good SUV to lease. Here's what we've learned so far about getting the best deal.
Unlike the Bronco Sport, the Bronco is an SUV available in a 2-door or 4-door layout. However, 4-door Bronco leases can actually be cheaper than the 2-door because of higher residual values. Sadly, early Bronco lease rates are awful at over 6% APR, approximately double the rate of the Bronco Sport.
That said, Bronco leases may be cheaper than the Bronco Sport because of a big difference in residual values. In fact, the Bronco has higher residual values than the Jeep Wrangler. Despite lacking any discounts, this could help make the new Bronco a good deal when shoppers choose to lease rather than buy.
The cheapest Bronco lease is for the 2-door with manual transmission, so be sure to factor the cost of the 4-door with automatic if applicable. At the time of this writing, doing so only adds roughly $470 to Ford's estimated amount due at signing. The most expensive Bronco leases can exceed $1,000/month.
Broncos will arrive with no APR deals, unlike the Bronco Sport. In addition, Ford has taken the unusual step of excluding the Bronco from X-Plan Pricing. Ford Plan Pricing offers employees and hundreds of affiliated companies haggle-free discounts. However, that won't be the case with X-Plan participants.
While Bronco lease prices could be good on paper, the possibility of dealer markups is worth considering. After all, buyers have already been willing to pay $10,000 over MSRP for the Bronco Sport. Broncos may also be hard to find since deliveries were delayed and Ford already has tens of thousands of reservations.
If you have a hard time finding a Bronco, you should know while Ford does offer a $1,000 discount at the moment on custom-ordered vehicles that are not in stock, Broncos are excluded. That could change, but there's also a possibility that shoppers have to wait until the 2022 model year to snag their Bronco.
CarsDirect's team of experts provides a monthly analysis of the best Bronco deals for buying & leasing. We can also tell you where the best Ford incentives are and provide you with breaking developments about new car deals. We can even help you get financed for an auto loan, even with bad credit.