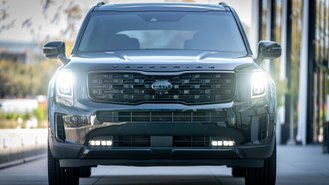 The Kia Telluride remains one of the hottest-selling SUVs on the market with a track record of commanding dealer markups of up to $10,000. However, early pricing for the 2022 Telluride based on a national dealer incentive bulletin suggests that the latest version may be a surprisingly good SUV to lease. Here's why.
To start, the 2022 Telluride LX is listed at $339 for 36 months with $3,499 due at signing. That's based on an MSRP of $34,015 with destination and 10,000 miles per year. That's just $20/month more than the 2021 Telluride's lease and may end up being a better deal if you can wait until its expected arrival this summer.
With a residual value of 66%, the 2022 Telluride has an advantage over vehicles like the 2021 Ford Explorer Base (61%). That said, the Telluride's advertised lease price is based on a lease rate of about 4.4% APR. Don't expect to see any rebates to help bring down the price anytime soon, especially amid a supply crunch.
Comparing Telluride lease prices with the Hyundai Palisade? Even though these SUVs are related and have similar MSRPs, we generally find the Telluride cheaper to lease. For example, Kia's latest deal on the 2021 Telluride LX has an effective cost of $416/month, a bit more affordable than the $459 for the 2021 Palisade SE.
CarsDirect's team of experts monitors the latest Telluride deals for both buying and leasing. We also provide monthly updates on Palisade deals. By comparing manufacturer incentives and shopping around, savvy consumers will be in a good position to have realistic expectations on how much they can expect to pay.
Current Kia offers end on July 6. Stay tuned for our special 4th of July deal coverage.
2021 Telluride pictured