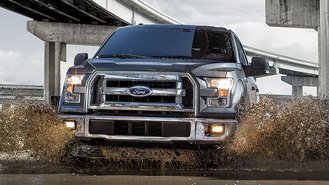 Ford seems to be grabbing headlines with discounts worth over $10,000 on the 2015 F-150. As we reported earlier this week, discounts have really ramped up, a complete U-turn compared with how incentives looked a month or two ago. But does everyone really get $10,000 off? Does it apply to any F-150? The answer is trickier than you might think. Here are answers to some of the questions that have come up.
Is the $10,000 discount for real? Can anyone get it?
It's true that Ford is advertising savings worth up to $10,029 in some regions. However, a closer look reveals some important fine print.
In addition to factory rebates, that number includes a $2,979 "dealer discount." According to Ford's website, the actual discount may vary because it's set by dealers.
So in addition to there being no standard $10,000 discount, you'll need to be a resident in an eligible region and be working with a dealer willing to pass along that exact amount.
Which states get the discounts?
We're seeing a wide range of amounts being advertised. Philadelphia appears to have some of the largest worth up to $10,029. In Dallas, it's $9,000. Here in Los Angeles, it's $7,050.
What's really happening is that there are $7,050 in manufacturer incentives right now. It's just that Philadelphia factors in a $2,979 dealer discount and Dallas includes a $1,950 "average dealer discount."
See trucks with the best rebates in July »
Does every truck get the discount?
In this case, only XLT models are eligible for the most total savings because of a $1,000 bonus you can't get on other trim levels. To get the best discounts, you'll need to opt for an XLT Super Cab or SuperCrew equipped with the 2.7L EcoBoost engine that has the Chrome or Sport Package.
If you prefer a well-equipped King Ranch or Platinum model, you won't see nearly the same level of savings. However, discounts have been ticking upward after incentives were canceled on the higher trim levels back in May. You can still get a deal, but it won't be as good.
See Ford F-150 rebates by trim level »
What's the breakdown in incentives?
Here's a breakdown of what the advertised discounts look like in Philadelphia, Dallas, and Los Angeles.
| | | | |
| --- | --- | --- | --- |
| Incentive | Philadelphia | Dallas | Los Angeles |
| Customer Cash | $500 | $500 | $500 |
| Bonus Cash | $2,500 | $2,500 | $2,500 |
| Finance Cash | $750 | $750 | $750 |
| XLT Cash | $1,000 | $1,000 | $1,000 |
| 2.7L EcoBoost Bonus | $300 | $300 | $300 |
| Chrome/Sport Pkg Discount | $2,000 | $2,000 | $2,000 |
| "Dealer Discount" | $2,979 | $1,950 | $0 |
| Advertised Savings | $10,029 | $9,000 | $7,050 |
Source: Ford
Why so confusing? So is it a good deal?
Trucks generally have the most complex incentives. A big reason is the multitude of configurations and because incentives tend to focus on the bestsellers.
If you've been waiting for a good deal on the 2015 model, now's a great time to buy. Just be sure to have your dealer confirm the truck you're looking at is eligible for the best incentives.
Get a free local quote on the 2015 Ford F-150 »
Unless specified otherwise, incentives listed here are based on a resident in Southern California. Lease offers are based on top-tier credit and exclude tax, license, title, registration, document fees and insurance. State-level incentives can vary, so please check with your CarsDirect Trusted Dealer to confirm all available offers in your region.
Visit our CarsDirect Pricing Insider page for pricing and deal analyses on hundreds of models. Sign up for email alerts to have our analyses delivered straight to your inbox. Browse our Deals Articles for insider info on the latest new car incentives that can save you money.