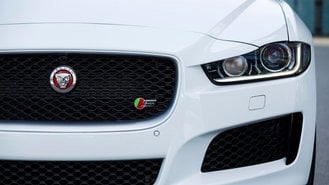 The all-new 2017 Jaguar F-PACE and XE may be launching this spring, but the automaker is already offering a special deal for early adopters. For a limited time, shoppers can qualify for a complimentary first payment plus an equipment bonus. So what does the deal entail? And who is eligible? Here's what you need to know.
Deal overview
Jaguar is offering a payment waiver of up to $800 toward the purchase or lease of a new F-PACE crossover or XE sedan. As a bonus, the automaker is offering free built-in navigation on entry models valued at $500. On higher-end versions already equipped with it, Jaguar is offering a $500 bonus off MSRP. The offer is valid toward contracts through Jaguar Financial Group.
To get the deal, shoppers will need to either book a reservation through the Jaguar website or dealer websites equipped to take bookings. These can be made online with a $500 deposit with a major credit card. Reservations must be made by May 8 and shoppers must execute their loan or lease by December 31, 2016.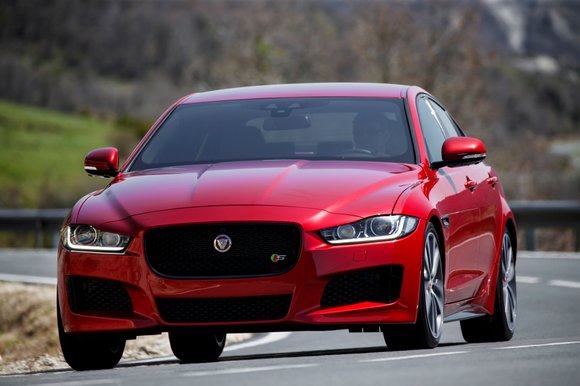 Two-pronged strike
Starting at $41,985 with destination, the F-PACE is Jaguar's first foray into the luxury crossover segment. It will compete with the highly successful Porsche Macan. The vehicle features the brand's signature grille and a sleek aluminum body. Stylized taillights evoke the pricier F-TYPE. Engines offered at launch include two supercharged V6 mills making 340 hp or 380 hp, as well as a 180 hp diesel later this year.
The new XE will take aim at the BMW 3-Series with prices starting at $35,895. The car will lower the cost of entry to the Jaguar brand by $17,000 versus the larger XF. The XE is built in England on a new platform with sporty features like near 50:50 weight distribution and a range of exciting engines. Shoppers can choose from a 240 hp 4-cylinder turbo, a 340 hp V6 or a 180 hp diesel.
Side-by-Side: Jaguar F-PACE and XE>>
Our take
When you consider these are completely new models that will likely command a premium to start, the potential to save up to $1,300 should be appealing to shoppers. Although no specific APR or lease deals have been posted yet on either model, both are bound to eventually see special offers like most Jaguars. Stay tuned for the latest deal news and insights as they become available.
For an easy way to find the best deals, visit the CarsDirect Deals Page for the latest deal-related news and analyses. Browse expert buying advice updated monthly on nearly 300 models for insider insights you'll only find at CarsDirect. Be sure to sign up for email alerts to have the latest deals delivered straight to your inbox.
Offers listed here are based on a resident in Southern California and may be subject to change. Most lease offers are for well-qualified buyers based on available credit and exclude tax, license, title, registration, document fees and insurance. Not all buyers may qualify. Please check with your CarsDirect Trusted Dealer to confirm details and eligibility.