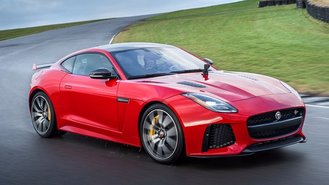 If you've been picturing a sleek new F-TYPE in your driveway (and can afford one), now may be the time to buy. That's because Jaguar is giving dealers up to $30,000 in incentives to help bring down prices on remaining 2017 stock.
So how does the discount work? Why isn't it being advertised? And what's the catch?
Here's what you need to know.
How It Works
The offer in question is a form of dealer cash incentive. Like other promotions of this type, it's entirely up to the dealer whether or not to pass along some or all of the savings to prospective buyers.
One of the conditions of this particular offer is that it can't be combined with promotional financing. As a result, the only shoppers eligible will be those paying cash or with the help of outside financing.
Program bulletins indicate the largest potential savings is at the higher end of the spectrum. The SVR is eligible for $30,000, while the R and V6 are eligible for $20,000 and $10,000, respectively.
Although Jaguar isn't advertising it, some dealers are already taking the opportunity to lower prices. Below, a well-equipped SVR is listed at $100,533, a $30,000 discount off the sticker price.

Theoretically, this brings prices for the entry-level V6 down to the low $50,000 range. However, that could just be wishful thinking at this point. That's because our analysis shows most dealers have largely sold out of the base model V6 (assuming they stocked it to begin with).
Still, if you're looking to score a deal on a well-equipped version, now is a great time to buy before it sells out. If you can't find one, you may want to wait. At the moment, there are zero deals to speak of for buying or leasing the 2018 F-TYPE. Current offers expire January 2, 2018.