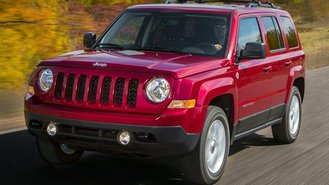 Crossovers have been a top-selling vehicle segment and automakers have been keeping pace with outstanding deals to attract shoppers. Deals on crossovers and SUVs saw an interesting shift this month, however, with the top discounts offered on Jeep and Dodge models.
Jeep is tops for discounts this month

Last month's top crossover deals mainly consisted of Jeep and Ford models. However, with top Ford models like the 2014 Escape selling out, Jeep and Dodge dominate our list this month. The lone exception is the 2014 Ford Edge, which is seeing heavy discounting prior to the release of the redesigned 2015 model.
Topping our list of crossovers with the biggest discounts is the 2014 Jeep Patriot, with discounts of up to 19% off MSRP. Inventory of outgoing 2014 models is limited at this point, but don't let that stop you: the 2015 Patriot takes the next spot on our list, with discounts of up to 17% off MSRP.
If you think it's unusual that so many Jeeps made our list, it's not just you. According to the National Automobile Dealers Association, incentive spending by Fiat Chrysler (parent company for Jeep and Dodge) increased over 31% last month, far outpacing competitors Ford and GM.
>>View our full list of top crossover and SUV discounts in January

It pays to have the inside scoop

Model year transitions are an important factor in the car-shopping process. The supply of vehicles from the previous model year often influences the incentives you see at any given time.
Inventory shifts vary for each brand and can be difficult for the average shopper to predict. The good news is that CarsDirect analysts look at inventory and incentive data to uncover the best deals. View our CarsDirect Pricing Insider page for detailed analyses on over 300 models, updated monthly.