Discounts on the Jeep Gladiator are looking quite a bit better for buyers in the last half of September. According to a dealer incentive bulletin, the brand has brought back an Employee Pricing deal worth over $5,000 in potential savings. However, our analysis finds that there can be some downsides worth knowing about.
As of last Friday, most 2020 Gladiators qualify for Employee Pricing, which is 5% less than the dealer's invoice plus a $200 fee. Jeep's website states that the offer is worth as much as $5,042 off the MSRP of a well-equipped Gladiator Overland. In addition, you can combine the offer with 0% financing for up to 36 months.
The last time Gladiators were eligible for Employee Pricing was in July. Earlier this month, the best deal was a $2,000 rebate. In places like California, you could also get a $1,500 bonus on the Sport S for a total of $3,500. If you're looking to buy a style like the Overland, the latest offer features more than double the savings.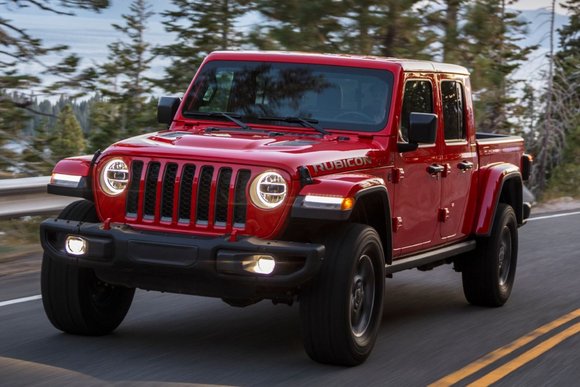 But is this really a good deal for everyone? Not exactly. Just like an offer introduced back in April, a closer look reveals that Rubicon and Mojave trims are excluded and the discount is limited to buying rather than leasing. Since the incentive is based on a calculation, your actual savings will vary based on configuration.
It's also worth noting that the $5,042 discount listed on Jeep's website is based on an MSRP from a survey of national sales data. In base form, the same trim is only eligible for a $3,498 discount. The cheapest Gladiator you can buy — a Sport with manual transmission — has an advertised discount of $2,063 excluding options.
That said, this month's $1,500 bonus on the Sport S is still available and can be combined with Employee Pricing for $4,027 in potential savings. In some cases, this could make the Sport S a better deal than the Sport. Key advantages with the S include power windows & locks, a power tailgate lock, tinted windows, and more.
Interestingly, Wranglers continue to be subject to substantially different incentives. Both the Wrangler and Wrangler Unlimited unfortunately lost Employee Pricing back in June and currently feature no rebates whatsoever. This could change, but it's an unusual quirk that could make a Gladiator more appealing to shoppers.
Offers end September 30.