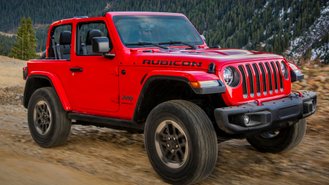 Jeep Wrangler buyers can no longer take advantage of a rare discount involving Employee Pricing, our analysis finds. The promo debuted back in April but was discontinued based on offers that took effect yesterday. Interestingly, some Jeep shoppers may end up finding the more expensive Gladiator cheaper to buy.
Previously, Jeep's Employee Pricing deal involved 2020 versions of the 2-door Wrangler, 4-door Wrangler Unlimited, and Gladiator. At the time, Jeep claimed the offer was worth over $5,000 off the 4-door Sahara Edition. Now, Wrangler buyers in June may find themselves settling for a considerably smaller discount.
According to a dealer incentive bulletin, Wranglers now qualify for a $1,500 rebate. However, a closer look reveals that the only eligible style is the less-popular 2-door model and only in the entry-level Sport trim. That could be disappointing for shoppers looking to score a deal ahead of the upcoming 4th of July holiday.
Fortunately, there are still some deals to be had. For example, 2020 Gladiators are still eligible for Employee Pricing. The discount equates to 5% less than the dealer's invoice price plus a $200 fee. Jeep says that's worth up to $7,103 off the well-equipped Overland trim, although that may be an inflated number.
Jeep's website actually says Employee Pricing is worth $3,498 off the Overland, while the previous figure of $7,103 is based on what the automaker says is the vehicle's average MSRP based on sales data. It also appears to include a $2,000 bonus you can only get when buying an Overland here in California.
Prefer the more affordable Gladiator Sport or Sport S? Expect Employee Pricing to be worth more in the neighborhood of $2,000 to $2,500.
Still, those looking to buy an Overland may find the Gladiator to be a better deal than a decently-equipped 4-door Wrangler Sahara. The Sahara starts at about $42,140 with an automatic while the Gladiator is priced at $43,890. That's a difference of $1,750 that can be easily offset by the Gladiator's better incentives.
While big Wrangler discounts haven't been rare and we've seen substantial savings on Gladiators, we've never seen this many catches for buying either of these models. Sadly, scaled-back offers are becoming an increasing trend among automakers despite the continued effects of COVID-19 on consumers.
Offers end June 30 and may vary slightly depending on region.