Consumers who've been waiting for Jeep Gladiator prices to settle may find the opposite to be the case this month, at least when leasing. Approximately 5 months after the truck began arriving at dealers, our analysis finds that certain versions can be up to $50/month more expensive than they were before.
Based on leasing information sent to dealers, the main reasons for this appear to be a 4 to 5% drop in residual values and a rate equivalent to 5.3% APR. Back in May, Jeep's online payment estimator listed the Gladiator Sport with manual transmission at $196 for 36 months with 10% down. Now it's listed at $246/month.
Here are screenshots of the same page from Jeep's website from May and as of today.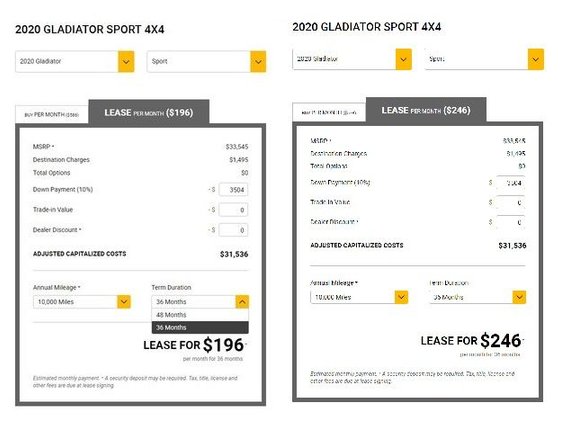 Unfortunately, shoppers may find the higher prices obscured by the fact that Jeep is now pushing buyers toward a pricier version of the Sport called the Sport S. Last month, the Sport was listed at $245 for 36 months with $4,259 at signing here in California, an effective cost of $363/month based on 10,000 miles a year.
Now, Jeep's featured lease on the Sport S is $319 for 36 months with $4,939 at signing. Its effective cost is $456/month, $93 more than the deal from the previous month. At this price, the truck is no longer cheaper to lease than the 2019 Wrangler Sport ($401) and Wrangler Unlimited Sport ($412).
Will this slow down Gladiator buyers? Probably not.
The model continues to be a hot commodity and average transaction prices have been steadily falling. That said, the vast majority of Gladiators stocked by dealers have list prices over $40,000, making it almost impossible to find one at the model's advertised starting price of $35,040 with destination.