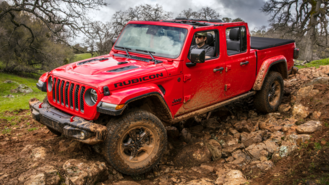 As we reported in April, the 2020 Jeep Gladiator is shaping up to be a spectacular truck to lease due to abnormally high residual values. However, the brand has quietly taken its cheapest leases offline. We suspect the brand figured out shoppers were learning they could take one home for less than the price of a Wrangler.
Previously, Jeep's website showed an estimated lease payment of just $143/month. The scenario was based on a 24-month, 10,000 mile-per-year lease for the Sport trim with 10% down and a residual value of 89%. Now, the brand's payment calculator requires a 36-month minimum term and payment of $196/month.
That's a difference of $53/month, no small chunk of change when comparing payments. However, it does serve to bring the new pickup closer in price to the Wrangler Unlimited. With the same inputs, the 2019 Unlimited Sport is listed at $264/month. But there's something worth knowing about.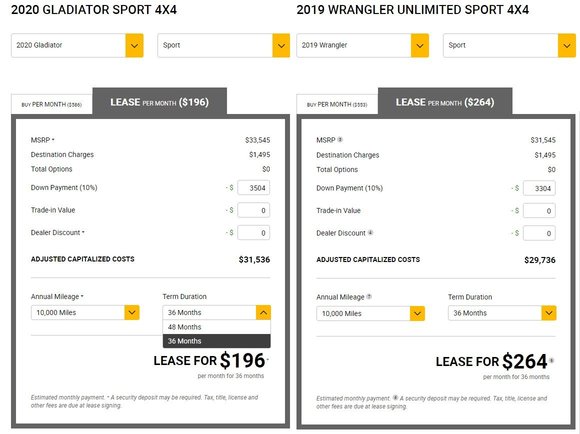 As it turns out, Jeep hasn't canceled 24-month Gladiator leases— it's just not advertising them. According to current residual guides from Chrysler Capital, Gladiators still have 24-month options available to consumers. You'll just have to talk to your local dealer for an estimate.
With the Gladiator, Jeep has managed to offer a pickup unlike any other. However, the brand appears to be hoping that consumers don't forget about the Wrangler.
Based on our analysis, an oversupply of 2018 Wranglers has resulted in dealers offering extreme discounts worth up to $9,000. As we reported yesterday, the brand is now resorting to mailing out $1,000 coupons.
With Memorial Day approaching, it's looking like a great time to score a deal on a Wrangler. However, we think the Gladiator could present a compelling value, particularly when leased. That said, we recommend shopping around because actual prices are set by dealers based on real-world demand and availability.
Learn more about the 2020 Gladiator »