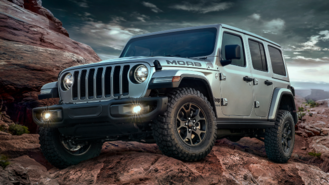 Jeep is giving consumers a good reason to check their mail this month (aside from that 20% off coupon from Bed Bath & Beyond). According to a bulletin sent to dealers, the company is sending buyers a $1,000 bonus coupon good toward the redesigned JL Jeep Wrangler.
The new incentive, which starts today, is a Targeted Direct Mail offer sent through the US Postal Service and email. Through July 1, recipients will be able to redeem the offer at their local Jeep dealer when buying or leasing any 2018 model year JL Wrangler or Wrangler Unlimited.
As we reported last month, dealers are offering unusually large discounts on 2018 Wranglers due to an oversupply. In a more extreme case, one local dealer here in Southern California is currently advertising up to $9,985 off Wrangler Unlimiteds after a $9,485 dealer discount and $500 rebate.

In theory, a consumer with the coupon in-hand could save almost $11,000 off MSRP. Unfortunately, Jeep isn't saying how many discounts it's mailing out and precisely who's getting it. Unlike a similar-sounding deal from back in February, Jeep doesn't appear to be treating this as a loyalty discount.
Private offers tend to reward current owners of the same brand or individuals coming from a competitor. However, programs like these sometimes reach consumers who've expressed an interest in a particular vehicle or brand. We've even seen offers that reward buyers for taking test drives.
Although we can't guarantee every buyer will get one, this will undoubtedly give consumers a good reason to check their spam folder and to not automatically throw out the latest batch of mailers ahead of this month's Memorial Day holiday.
Learn more about the 2018 Wrangler Unlimited »