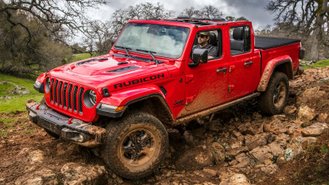 Jeep is resorting to an old tactic to sell its newest model. According to a bulletin sent to dealers, the brand has started sending out a $2,000 coupon to shoppers coming from a competitor. Known as a conquest bonus, the incentive marks the single largest discount we've seen to date on the 2020 Gladiator pickup.
Unlike traditional offers, the promo is a direct mail campaign involving a coupon sent electronically or via US Mail. In the habit of deleting promotional e-mails? You may want to think again. You could be missing out on the chance to score a deal on one of Jeep's most popular models.
Our analysis finds the offer is worth double that of a loyalty discount introduced a month ago. Sadly, like that offer, this month's conquest bonus excludes the range-topping Rubicon trim. Some may find that akin to adding salt to a wound after a recent $330 price increase on Gladiator Rubicons.
Like most targeted offers, the Gladiator incentive can be shared with immediate family in the same household. While it's nowhere close to the $10,000 in discounts we're seeing from some brands for Black Friday, we think the latest offer is certainly worth looking out for if you're lucky enough to get one.