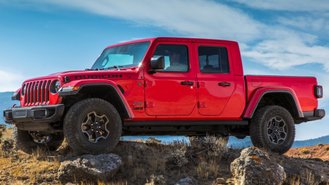 This morning, Jeep introduced an Employee Pricing deal for the first time on two of its most popular vehicles, the 2020 Wrangler and Gladiator. This comes as an alternative to 0% APR financing announced earlier this month. However, our analysis finds that there are some important things worth knowing about.
First, FCA Employee Pricing equates to 5% less than the dealer's invoice plus a $200 fee. The offer can reduce the price of a 4-door Wrangler Unlimited Sahara Edition from $38,645 to $35,296 before destination, a $3,349 discount. In the case of a Gladiator Overland Edition, the offer can result in nearly $3,500 in savings.
But is this really a good deal? That depends.
Just last month, Wranglers were eligible for Friends & Family Pricing equal to 1% less than the invoice price plus a $75 fee. From that standpoint, the latest offer is an improvement. No other Jeeps are eligible, which happens to basically be the opposite of what we found late last year with a similar offer for Black Friday.
While Jeep is now advertising over $5,000 off both vehicles, a closer look reveals the figure is based on the "average MSRP" of high-end trims based on survey data. Those looking to finance through Chrysler Capital will be eligible for no payments for 90 days as part of a broader move to help consumers amid COVID-19.
Having said all that, dealer discounts of up to $10,000 have become increasingly common on Wranglers. Although Employee Pricing is completely new for the Gladiator, the model has benefited from some extreme dealer discounting in recent months with up to $9,000 off MSRP in some parts of the country.
According to dealer incentive bulletins, there are a number of catches that could leave you disappointed if you aren't careful.
For example, Employee Pricing is available when buying but not when leasing. The offer also excludes range-topping Rubicon styles, as well as the new Gladiator Mojave Edition. Although Jeep is now offering 0% APR for 36 months on all versions of both models, it can't be combined with Employee Pricing.
So is now the time to buy?
While big discounts aren't unusual for either vehicle, we've never seen 0% APR before this month on both models. However, a 36-month term makes for a lackluster option compared to offers on other FCA models like 0% APR for 84 months. Those looking to lease, or buy a Rubicon, will likely see no advantage in April.
Offers end April 30.
Build & Price Your 2020 Wrangler Unlimited »