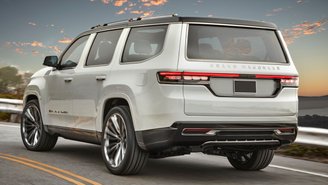 Jeep's biggest SUVs may be better to lease than you think. According to a dealer leasing guide, the 2022 Wagoneer manages to have a higher residual value than the Cadillac Escalade. While a price increase has made both the Wagoneer and Grand Wagoneer more expensive, there may be an opportunity for consumers.
In base form, the Wagoneer Series II has a 36-month residual value of 61% per Chrysler Capital. The larger Grand Wagoneer Series I is listed at 60%. For reference, GM Financial lists the entry-level Escalade at 58% and the Escalade ESV at 56%. These figures are all based on a 10,000 mile-per-year lease.
However, the Escalade may have an advantage. With a 24-month lease, the Escalade comes in at 72% while the Wagoneer is listed at 71%. Shorter leases typically have higher residuals. Although these figures are quite close, it may be worth noting that the current Escalade has been on the market since last year.
Higher residual values often translate to better leases for consumers. However, they don't tell the whole story. Other factors like the money factor, lease cash, and more help determine where the best lease deals can be found. Sadly, the Wagoneer and Grand Wagoneer have no discounts based on current Jeep offers.
For now, prospective Wagoneer shoppers should expect to pay a premium whether they're buying or leasing. In contrast, leases for the new Grand Cherokee L may be more appealing. It may be hard to believe, but lease prices for the new 3-row SUV here in California have actually rivaled that of the smaller Jeep Compass.
Build & Price Your Jeep Wagoneer