For the first time, Kia is offering the same $199 monthly lease payment on the Niro, Niro Plug-In Hybrid, and Niro EV. While there are some slight differences in the brand's latest lease deals, eco-conscious shoppers may find this an unprecedented opportunity to upgrade to a plug-in model for a lot less than one might think.
Through February 1, Kia has cut its price on the 2020 Niro LX by $20/month to just $199 for 36 months with $2,499 due at signing. While that marks the best price we've seen to date, the 2020 Niro Plug-In Hybrid is eligible for more than double the savings and can end up costing as little as $14/month more to lease.
Even though the MSRP of the PHEV is $4,900 higher on paper, Kia is offering $6,043 in factory lease cash compared to "just" $3,900 for the Hybrid. While the PHEV does require $2,999 at signing, its effective monthly lease cost comes out to $282/month. Meanwhile, the regular hybrid model comes in at $268.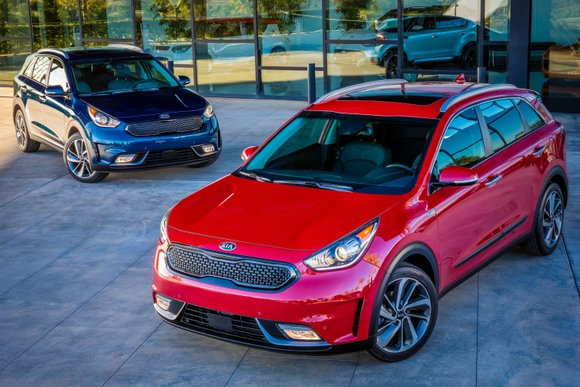 That may sound straightforward, but the PHEV may end up being cheaper if you consider the added value of the $1,000 Clean Vehicle Rebate (CVRP) and a $908 Clean Fuel Reward. These are incentives that you can't get with a regular gas-electric hybrid and can often help bridge the gap in price with a plug-in model.
Then there's the EV. According to a Kia leasing bulletin, the 2020 Niro EV is eligible for a $13,100 incentive that puts a significant dent in its $40,210 MSRP. It's listed at $199 for 36 months with $3,499 at signing for an effective cost of $296/month. It also benefits from a $2,000 CVRP and $1,500 Clean Fuel Reward.
Just to help put this into perspective, the 2021 Toyota Prius L is currently listed at $239 for 39 months with $1,999 at signing, or $290/month here in Southern California. The fact that you can potentially lease a $40,000 EV for just $6 more (or less with plug-in rebates) makes Kia's deals particularly compelling.
In terms of fuel economy, the Niro hybrid is rated at up to 50 mpg overall while the PHEV and EV come in at 105 MPGe and 112 MPGe, respectively. As far as range, the PHEV offers 26 miles on EV power alone (560 miles with the gas engine), while the EV gets up to 239 miles.
Kia offers can vary by region. Figures listed here are based on a leasing bulletin sent to Kia dealers in the following states: CA, CO, DE, FL, HI, IL, IN, ME, MI, MN, ND, NE, OH, PA, UT, VT, WI, WY. Note that while the hybrid and PHEV are based on 12,000 miles per year, the deal on the EV is based on 10,000.