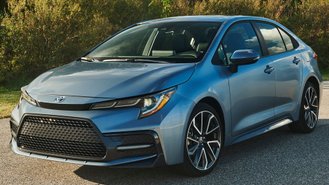 We've seen a flurry of last-minute Black Friday car deals just within the last week that can save you money. Last Thursday, Subaru began offering 0% APR for 63 months on the 2021 Outback, matching the best deal we saw this year on the now-sold-out 2020 model. Previously, the lowest rate was 0.9% for 48 months.
On November 21, Nissan cut its 84-month rate on the 2021 Titan pickup from 2.9% to 0%. Based on our analysis, this can translate to a $50/month improvement in payment on a $40,000 pickup. This marks one of the rare cases in which you can manage to get interest-free financing for up to 7 years on a 2021 vehicle.
Earlier today, Hyundai sweetened its best deal on the 2021 Tucson crossover to 0% APR for 72 months plus an additional $500 cash. That's almost identical to the automaker's offer on the 2020 Tucson. The key difference is that the outgoing SUV has the advantage of offering No Payments For 5 Months for the holidays.
Toyotas have better offers, too. In Cincinnati, lease incentives on the 2021 Corolla were doubled to $1,000 last Friday. In San Francisco, the fuel-efficient Corolla Hybrid, Prius Prime, and Highlander Hybrid offer an extra $500. In Boston, Camrys began offering an extra $500, with $3,500 up for grabs on the 2020 Camry Hybrid.
We're tracking at least 19 brands offering Black Friday deals ranging from zero-interest financing, no payments till 2021, and free $500 Amazon gift cards. In addition to offering continuous coverage on the best car & SUV deals, we're providing the latest coverage on Black Friday truck deals that can save you money.