Trucks are big business for automakers, and it's common to see large discounts on the most popular models. Chevy has come out of left field with a new 15% off MSRP promotion on its flagship Silverado 1500 to close out the month.
However, a closer look reveals the offer isn't as straightforward as one might think. So which trucks are eligible for the offer? How does the discount work exactly? And what's the catch? Here's what you need to know.
Note: Offers assume a Southern California location unless noted otherwise.
Offer Details
GM is offering a 15% discount on Silverado 1500 trucks. The deal was rolled out March 21 at dealers nationwide. The offer focuses exclusively on Crew Cabs. Less popular Regular and Double Cab configurations aren't eligible.
On a Silverado LT 2WD with a sticker price of $46,715, this translates to a $7,007 discount and a selling price of $39,708 before taxes and fees. The offer can't be combined with other incentives and is only valid through March 31.
This is along the lines of a 17% off MSRP deal on the GMC Sierra 1500 introduced early this month. In the case of the Silverado, there's only a 10 day window in which you can get the deal.
There's a big caveat, however.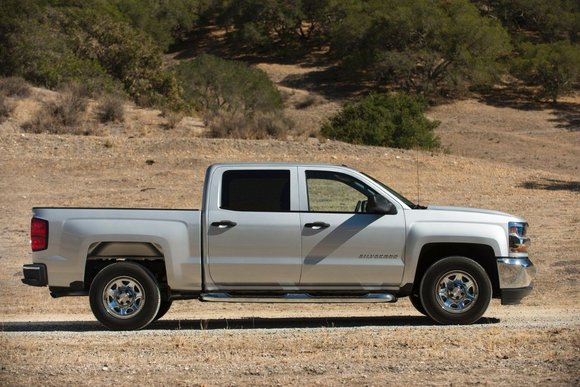 Not all inventory is eligible for the promotion. Only inventory tagged in advance qualifies for the offer. To make things worse, GM isn't clearly defining what makes a truck eligible.
Previous "Bonus Tag" sales have often focused on a specific category, such as the oldest 10% of stock. GM hasn't said if the same situation applies here.
The calculation method for the 15% off is quite complicated. Based on our analysis, it's essentially Supplier Pricing plus a cash allowance to arrive at 15% off MSRP.
For those unaware, Supplier Pricing equates to the invoice price plus destination and a $200 program fee. So the current promotion takes this up a notch by adding a cash allowance.
The allowance is just an additional discount on top of Supplier Pricing to get you to 15% off MSRP. Here's an example based on a 2017 Silverado 1500 LT 4x2 with an MSRP of $46,715.
Since the promo price is 15% off MSRP, that equates to a $7,007 discount. Supplier Pricing for this vehicle is $43,793, or a $2,922 discount off MSRP. To arrive at $7,007, a $4,085 allowance is being given. So the final price is $39,708.
Find this confusing? You're not alone.
Our Take
GM's latest promotion could save you a ton of money on a new truck. But is it really the best deal? Earlier this month, the automaker advertised 0% APR for 60 months plus $5,500 cashback.
To get to that amount, our analysis shows you'd need to find a specially selected truck to get a $2,000 Bonus Tag, live in a region eligible for a $2,000 rebate, and get $1,000 down payment assistance for financing with GM Financial.
There's a lot of fine print with either offer. However, this isn't new or even exclusive to GM.
Ford has advertised incentives worth up to $10,000 on its F-150 pickup. However, our analysis has shown this can sometimes include murky elements like estimated dealer discounts and incentives not everyone may be eligible for.
There's generally a "catch" when it comes to big truck incentives. However, if you know this in advance, you can still save a lot of money if you know what to look for and what to ask when you talk to your local dealer.