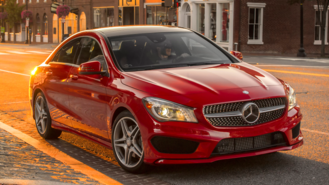 Late-month Mercedes-Benz shoppers are poised to save a bit more money in January when buying or leasing.
Last Friday, the brand quietly introduced a new incentive involving a payment credit worth up to $600.
However, not every model is eligible and there are some strings attached.
Here's what you need to know.
How It Works
Between January 18 through the 31st, Mercedes is offering a credit worth up to $600 when financing or leasing. However, the only models eligible are the 2018 & 2019 CLA-Class and C-Class Sedan and GLC350 Plug-In. If you're looking for a deal on one of the brand's popular crossovers like the GLE, you may want to wait.
To get the deal, you'll have to take out a loan or lease through Mercedes-Benz Financial Services, which means buyers paying cash or who've lined up their own financing aren't eligible. The C-Class Sedan is eligible for 2.99% APR for 72 months, which is 1% higher than last month. There are no such offers on the CLA.
It's worth noting that not all shoppers will be eligible for the full $600 because the terms state the incentive is "up to" that amount. If your first month's payment comes out to $500, that's what the credit will end up being worth. We think it's a small but important detail worth being aware of.
What To Expect
Based on our analysis, 2018 inventory has sold out or is very difficult to find. As a result, shoppers should largely expect to find 2019 cars in stock at their local dealer. Even then, vehicles like the CLA may be very hard to find since it's a lower-demand vehicle and only kept around in small numbers.
Advertised lease prices aren't particularly great at the moment. The 2019 CLA250 Premium is listed at $349 for 36 months with $3,797 due at signing, which equates to an effective cost of $454/month. Here in California, the 2019 Audi A4 2.0T Premium is just $9/month more to lease ($463) despite a $4,000 difference in MSRP.
As usual, if you're willing to negotiate, you may be able to enjoy better pricing than what's advertised. Due to brand restrictions, it's worth knowing that Mercedes often uses dealer cash incentives instead of traditional rebates. Having said that, those incentives are worth a paltry $250 on the CLA and $1,000 on the C-Class Sedan.
When comparing prices, shoppers should try to ensure they're making apples-to-apples comparisons with competitors. For example, some of Audi's leases are for as long as 39-months, while offers from Buick are as short as 24 months and can equate to awful values since the cost of the lease is spread out over such a short period.
Later this year, Mercedes will introduce a revamped 2020 CLA-Class with a more upscale look, as well as a new entry-level model called the A-Class that bears a number of familiar design cues and comes with a price tag just under $34,000.