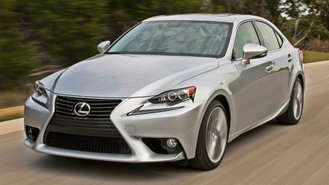 Earlier today, Lexus announced some important changes to the IS lineup of luxury sedans for the 2016 model year. While the overall design will carry over, a turbo powerplant and two new model designations will be coming later this year. Will they be worth the wait? Is now a good time to buy the outgoing model? Here's what you need to know.
Same face, new heart
A new turbocharged model, the IS 200t, will be the new entry-level model. Borrowing the engine from the NX crossover, it will get a much-needed increase in power from the 204 hp V6 on the 2015 model to a 241 hp twin-scroll turbocharged four cylinder engine.
Read our full preview of the 2016 IS 200t>>
Models split by drive type
Lexus is opting for an unusual change in strategy by breaking up the lineup by drive type. As an example, the IS 200t will only be offered in rear-wheel drive. Shoppers requiring all-wheel drive will likely have to upgrade to the newly-resurrected IS 300, a nameplate we last saw in 2005.
The new IS 300 will be offered in all-wheel drive form only. The next step up will continue to be the IS 350 in either rear or all-wheel drive configurations. The shift is unusual given what we normally see from Lexus.
One interpretation is that doing so enables the cars to be advertised, stocked, and priced to better match regional tastes. For example, all-wheel drive models of the IS 250 tend to be incredibly difficult to find in regions like California due to low demand.
Learn more about the upcoming 2016 IS 300>>

Outstanding deals
While the larger ES continues to dominate sedan sales for Lexus, the IS 250 has been the go-to pick for shoppers looking for attractive deals. It continues to rank highly as a lease value because of its low amount due at signing.
In particular, this month's Golden Opportunity Sales Event added a complimentary payment offer that resulted in a $300 cut in the amount due at signing. This month's offer is $349 per month for 36 months with $799 due at signing. In comparison, the lease on the BMW 320 is currently $269 per month for 36 months with $4,064 at signing.
When you consider both the payment and amount due, the IS has an effective monthly cost of $371. On the other hand, the lease on the 320 comes out to $382 per month. When you consider the Lexus has an MSRP $2,814 higher than the BMW, the IS is a superior value for the money.
Get a custom lease quote on the IS 250>>
Our take
There are clearly some important changes coming with the 2016 IS lineup. A substantial boost in power on the base model will likely make the IS 200t a compelling option given alternatives from popular competitors like the Audi A3 and Mercedes-Benz CLA250. With so-called entry-luxury models inching up in price for 2016, it will be interesting to see how Lexus decides to price the new IS models.
That being said, now is an excellent time to take advantage of the outstanding offers on the outgoing model. However, don't expect to see big rebates like those advertised by mainstream brands. Like most luxury automakers, Lexus tends not to use rebates to discount cars.
What we typically see is the addition of unadvertised incentives called dealer cash in aggressive selldowns. There is no dealer cash on the IS right now, but we suspect it could make an appearance in the months ahead to improve prices. Stay tuned for the latest deal news as it develops.
See the best luxury car lease deals this month>>

Unless specified otherwise, incentives listed here are based on a resident in Southern California. Lease offers are based on top-tier credit and exclude tax, license, title, registration, document fees and insurance. State-level incentives can vary, so please check with your CarsDirect Trusted Dealer to confirm all available offers in your region.
Visit our CarsDirect Pricing Insider page for pricing and deal analyses on hundreds of models. Sign up for email alerts to have our analyses delivered straight to your inbox. Browse our Deals Articles for insider info on the latest new car incentives that can save you money.