This month, Lexus is offering a new loyalty bonus on two of its most popular models. For a limited time, lessees of the brand can now qualify for a $750 discount toward a brand-new ES sedan or RX crossover.
So what do you need to do to get the deal? Is there a catch? And how long do you have to take advantage of the incentive?
Here's what you need to know.
Offers assume a Southern California location unless noted otherwise.
Offer Details
Starting April 1, Lexus is offering a $750 lease loyalty reward in western states such as California. Eligible models include the 2017 ES 350, ES 300h, RX350 and RX450h.
To qualify, simply show proof that you currently lease any Lexus model. You don't need to trade-in your current car, and members of the same household can share the discount.
Proof can take the form of a current lease agreement showing your name and address. If the discount is being shared, you'll need to show that you both reside at the same address.
So if your spouse currently leases a Lexus IS but you've been thinking of upgrading to something more spacious, now is a great time to score an extra discount on a new RX.
Program rules state that the new vehicle must be taken from dealer stock, so factory orders appear to be ineligible.
Think that's all? Not quite.
You can stack the discount with a Military Reward or College Graduate Award worth $1,000. Altogether, there's up to $1,750 in available savings before negotiating the selling price.
The loyalty reward is set to end May 1, 2017. The Military and College discounts are ongoing and run through January 2, 2018.
What's Our Take?
Although loyalty incentives are common in the luxury segment, Lexus tends to use them sparingly. Special offers from the Japanese automaker often swing wildly month to month.
For example, last month Lexus reintroduced cashback offers worth up to $2,500 across most of its lineup. However, the deals were short-lived, and have already been eliminated on everything except the CT Hybrid.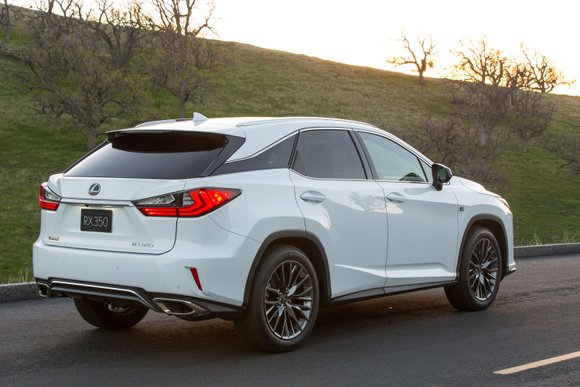 This month, you can lease a 2017 RX 350 from $419 for $36 months with $2,999 dye at signing. With an effective cost of $502, it's $93/month cheaper to lease than a 2017 Mercedes-Benz GLC300 Premium ($502 vs. $595).
The ES 350 continues to rank as one of the better Lexus leases, starting at $329 for 36 months with $3,799 at signing. With an effective cost of $435, it's actually $5/month cheaper to lease than a Mercedes-Benz CLA250 ($435 vs. $440).
When you get to the dealer, be sure to let your salesperson know you're coming from another Lexus if you're eligible for this month's discount. There's no way to know if the deal will carry over into May, so you may want to take advantage of it while you can.