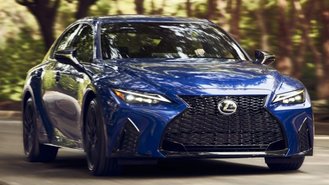 The cost to lease a Lexus has exploded as the brand struggles with an inventory shortage. Based on our analysis, Lexus lease payments have increased by up to $128 in just a matter of months. This could spell trouble for shoppers looking to get a deal ahead of the company's annual December To Remember car sale.
On the West Coast, the 2021 Lexus IS 300 is listed at $469 for 36 months with $3,999 due at signing. That comes out to an effective cost of $580/month based on 10,000 miles per year. A month ago, the cost was $510. Before that, $470. When the car first arrived this past February, the car's cost came out to $452/month.
While deals do tend to get better with time, that's clearly not the case here. Compared to prices when the IS originally launched, shoppers will find a difference of $128/month. Even those choosing to buy a new Lexus may be left out in the cold after the brand canceled rebates this month across much of the country.
A month ago, you could get up to a $4,500 bonus on a 2021 Lexus ES. Now, the discount is worth just $500, an 89% loss in savings. You'll also find fewer APR deals. In the case of the new IS, the brand is only offering buyers a so-called Standard Rate of 4.19% for 60 months. Earlier this year, you could score 0% APR.
These changes have resulted in some odd quirks. For example, the Lexus RX lease prices can now cost just $10/month more than an NX crossover. Depending on how flexible you are in your shopping, this could present an opportunity to upgrade. But is it worth waiting for next month's December To Remember sale?
That's hard to say. No one can predict what will happen, but we do know that Lexus incentives can change drastically from one month to the next. As a result, there could be a chance that the company will offer better prices. Sadly, waiting could also run the risk of watching prices get even worse than they already are.
Examples based on offers from dealer leasing bulletins valid through November 1.