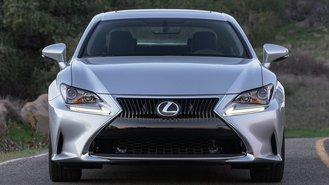 Leasing can be a great way to get behind the wheel of a luxury car for less than you might think. This month, the Lexus RC 200t features a stellar deal now that it's been announced the updated RC 300 will take its place.
Interestingly, our analysis shows the over $44,000 luxury coupe is now just $5/month more to lease than a Toyota 86, a vehicle with less power, fewer amenities and a significantly lower MSRP to boot.
But how is that even possible when the difference in sticker price is over $16,000? The reason has to do with how the leases are structured.
Here's a look at what you can expect based on offers here in Los Angeles.
The $5 Upgrade
The 2017 Toyota 86 is advertised at $349 for 36 months with $1,999 due at signing. Its MSRP is $27,840 and comes with 12,000 miles of driving per year.
Effective Cost: $405/month
The 2017 Lexus RC 200t is listed at $299 for 36 months with $3,999 due at signing. That's based on an MSRP of $44,285 and includes an allowance of 10,000 miles per year.
Effective Cost: $410/month
Despite a $16,445 difference in MSRP, the Lexus is just $5/month more to lease. That's about what you'd pay for a pumpkin spice latte each month.
Here's a brief look at why that's the case.
Based on our analysis, Toyota's leasing calculation for the 86 assumes a 55% residual value and a money factor of 0.00114, roughly equivalent to an interest rate of 2.7% APR. There is no "lease cash" to help drive down the price.
On the flip side, the RC 200t assumes a 54% residual and money factor of 0.00001, the lowest rate Lexus is offering at the moment and basically equivalent to 0% APR. The car also benefits from $4,500 in lease cash.
With only a $5 difference in price, which would you choose for the money?
See our full roundup of the Best Lease Deals for more insights based on over 620 promotional offers.