In an unusual move, Lexus has begun offering cashback incentives publicly for the first time. The change is a major shift for an automaker that has imposed strict advertising rules on its dealers pertaining to discounts.
In some cases, the luxury automaker is offering up to $5,000 off slower-selling sedans, as well as never-before-seen offers on popular models like the NX and RX crossovers.
So what kinds of discounts can shoppers expect to get? And how does this compare with competitors?
Here's what you need to know.
A large shift
Shoppers visiting Lexus.com will now find an array of new purchase and finance incentives in addition to special lease offers. Interestingly, the offers are in stark contrast with a traditionally conservative approach that forbade dealers from advertising cutthroat discounts.
Offers vary regionally, but here in California, shoppers can now find customer cash ranging from $1,000 to as much as $5,000 on nearly every single model in the lineup as part of the Golden Opportunity Sales Event. Based on our analysis, the largest discounts are being offered on the 2016 GS 200t, GS F and flagship LS 460 sedans, as well as the RC F coupe.
The intriguing part is the wide range of models eligible for cash.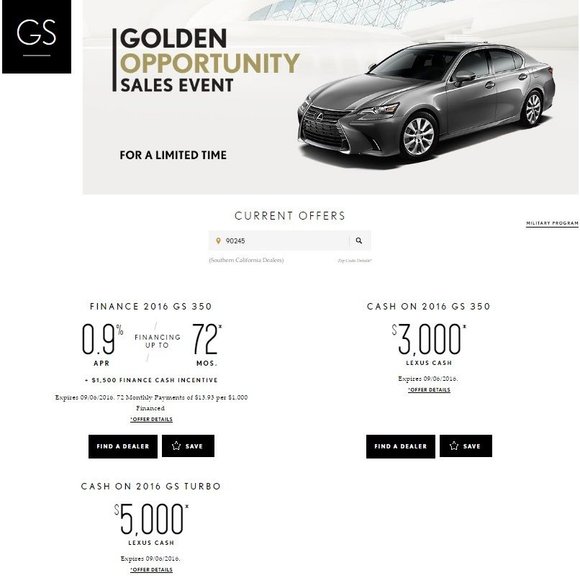 Pictured: Current GS incentives on Lexus.com
Even the IS 200t features a $2,500 rebate, while the smaller 2016 CT 200h has a whopping $3,500 (compared to $2,000 on the redesigned 2016 Toyota Prius). Surprisingly, the popular NX 200t and RX 350 crossovers also get a respectable $1,000 cash.
Finance offers are also attractive, with offers starting at 0% for 60 months on the 2016 CT 200h in addition to a $1,000 bonus. Like the Toyota brand, 72 month financing is now being advertised on an increasing number of models. You'll now be able to find 0.9% APR for 72 months plus up to $500 to $2,500 in signing bonuses.
Pictured: 2016 Lexus IS 200t
Leases from Lexus continue to rank highly based on our monthly analysis of over 400 lease offers. Once again, the IS 200t ranks as one of the best leases in the luxury car segment, starting at $329 for 36 months with $1,599 due at signing. In California, there's even a regional zero due at signing lease starting at $379 per month.
Current offers are set to run through Labor Day and will expire September 6.
Keeping pace with competitors
Despite the changes, Lexus is no stranger to large discounts. The automaker has traditionally used unadvertised dealer cash incentives to enable its dealers to provide more attractive pricing.
When asked for comment, Lexus spokesperson Maurice Durand cited a "market-wide shift" in regards to demand for crossovers at the expense of sedans, calling the change "a reflection of the reality of the market at the moment." Mr. Durand went on to say that the company was looking to stay in step with what competitors are doing.
Based on our analysis, that appears to be a fair assessment. Audi is currently offering up to a $5,000 discount on models like the 2016 A8 flagship, which can be boosted to as much as $7,000 factoring a conquest bonus for owners of a competing luxury vehicle.
Pictured: 2016 Lexus GS 200t
In contrast, Mercedes-Benz is using advertised dealer cash incentives worth up to $5,000 on models like the S550 sedan, with smaller incentives worth $3,000 on the 2016 E350 sedan and $1,800 on the 2016 C300.
BMW is taking a somewhat similar tact with a program giving dealers a limited number of certificates worth $3,000 that can be used to target select 6-Series and 7-Series customers.
Unanswered questions
Do the recent changes really signal a shift in long-term strategy? That's still unclear. Lexus declined to say whether the current approach would continue beyond Labor Day.
That being said, a recent report states that a pilot program from Lexus involving haggle-free pricing at a handful of dealers has yielded positive feedback from customers, according to Automotive News (subscription req'd).
Will customers warm to a more conventional format of upfront rebates as well? And does the automaker risk damaging its brand image as well as resale values? That all remains to be seen.