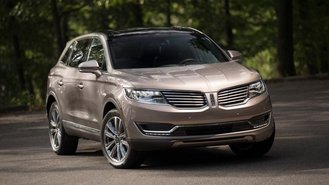 Car buying can seem like a complex process. Luxury automaker Lincoln is hoping a new trial program called Click to Purchase will allow customers to experience the buying process more at their own pace and complete a majority of it well before stepping foot in a dealership. Although other automakers have been testing similar programs, Lincoln is hoping their take will resonate with luxury car shoppers. Here's what you need to know.
Program overview
The Click to Purchase trial is designed to provide a personalized way to shop, find and price a new Lincoln. The process is designed to flow at the shopper's own pace across multiple formats, from your desktop computer to a mobile device.
The trial began November 5 at participating dealers in at least five states: Florida, New Jersey, Pennsylvania, Texas and Wisconsin. All new vehicles are eligible except for Black Label models, which have access to a more exclusive experience. The trial is set to run through March 31, 2016.
Shoppers register through a special landing page on Lincoln's website to get immediate access to upfront discounted prices. Shoppers can even apply for financing and calculate estimated payments that factor taxes and fees before stepping foot at the dealer.
The discounts vary by car based on configuration. Although we suspected this was a version of Ford X-Plan pricing, a Lincoln spokesperson confirmed this is in fact not the case. Based on what we've seen, amounts range from around $1,212 off MSRP on a 2016 Lincoln MKC to as much as $3,418 off a 2016 Navigator L before incentives. At the final step, shoppers get a certificate showing a guaranteed price and estimated payment.
Read our take on the 2016 Lincoln MKC>>
Testing the waters
Online buying options have improved over the last several years. GM has had a program called Shop-Click-Drive since late 2013 that puts most of the buying process online. Approximately 29,000 new vehicles have reportedly been sold under that program, according to Automotive News. On a related note, luxury automaker Lexus has been testing hassle-free pricing at a handful of its dealers.
Lincoln's process aims to be different in that it allows shoppers to start and stop the process whenever they wish, whereas GM's program does not. Shoppers also get access to a Lincoln Concierge for one-on-one interaction with an expert over the phone or online chat- including video chat.
Lincoln is hoping tech-savvy customers will find value in a more personalized experience that allows them to complete more of the process in advance and at their own pace. According to a 28-page program document, the automaker expects shoppers will be able to complete about 70% of the buying process online, with the remaining 30% representing face-to-face time finalizing the sale at the dealership.
Monthly Deal: 2016 MKZ Hybrid lease from $339/mo>>
Our take
Lincoln's effort to create a more robust option for online shoppers is certainly worth recognizing. That being said, consumers have been shopping for cars online for years, with a wealth of data and insider buying advice at their fingertips. In some cases, shoppers can find upfront pricing listed by dealers online.
Whether or not Lincoln's solution satisfies customers remains to be seen. Steps like the trade-in evaluation and test drive will still require a trip to the dealer. However, it's likely that Lincoln's competition will be watching what happens closely in the coming year.
Editor's Note: Added clarification on pricing and updated the program expiration date based on statements from Lincoln.
Explore Lincoln's lineup now>>
For an easy way to find the best deals, visit the CarsDirect Deals Page for the latest deal-related news and analyses. Browse expert buying advice updated monthly on nearly 300 models for insider insights you'll only find at CarsDirect. Be sure to sign up for email alerts to have the latest deals delivered straight to your inbox.
Offers listed here are based on a resident in Southern California and may be subject to change. Most lease offers are for well-qualified buyers based on available credit and exclude tax, license, title, registration, document fees and insurance. Not all buyers may qualify. Please check with your CarsDirect Trusted Dealer to confirm details and eligibility.