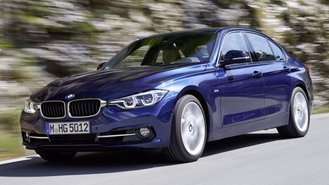 If you've been on the fence about buying a luxury car, June is looking like a fantastic month to do so.
BMW has cut lease payments by up to $70. Acura has cut payments as much as $40 and introduced discounts for the first time on the MDX, while Lexus has brought back cashback ahead of the Fourth of July holiday.
However, not every brand is taking such an aggressive stance. Some have actually taken prices up. You'll need to know where to look, so here's an overview of some of the stellar deals that have caught our eye this month.
Offers assume a Southern California location unless noted otherwise.
BMW has cut payments by up to $70 per month on models on 2017 2 Series, 3 Series and 4 Series models. Offers start at just $289 for 36 months with $3,964 due at signing on the 320i Sedan. Explore BMW »
Acura has cut lease payments up to $40 per month on the ILX, with offers now starting at just $199 for 36 months with $2,499 due at signing. With an effective cost of $268, the Base ILX now has an effective lease cost that's just $20 per month more than a Honda Civic 2.0 EX ($248).
The 2017 TLX continues to be one of the best deals on a luxury sedan at just $279 for 36 months with $999 at signing. However, the MDX benefits from a $30 per month cut in lease payment nearly across the board with offers starting at $409 per month. Explore Acura »
Lexus has gone back to offering rebates after several months of subpar deals. You can now get up to $3,000 cash on the flagship LS sedan or $1,000 on the popular NX and RX crossovers. There's also a $500 bonus for coming from a competitor on any NX or IS. Explore Lexus »
Infiniti has extended its Spring Bonus through the month of June. It's worth up to $2,000 on the Q50 sedan or QX60 crossover. The sleek Q60 coupe is eligible for up to $1,000, while the QX30 gets $500. Explore Infiniti »
Volvo has cranked up discounts on the XC60 ahead of a big redesign. You can now get $4,500 cash plus 2.49% APR financing for 60 months. The S90 sedan also benefits from a sudden surge in offers. T6 versions get a $4,500 discount, while the T5 gets $2,750. Volvo owners can also get a $1,000 loyalty discount when purchasing. Explore Volvo »
Audi is offering up to a $2,500 bonus on the 2017 A6 sedan, or $1,000 on the popular A4. Both offers can be combined with 2.9% APR for up to 66 months. If you're coming from another luxury brand, Audi will even give you a $1,000 bonus toward the A6, bringing the total to $3,500. Explore Audi »
However, not all luxury brands are sweetening deals.
Cadillac has hiked lease payments by up to $50 per month on models like the CTS and Escalade. There are still deals, like a $4,000 bonus on the CTS and CT6, but it's only available on specially tagged inventory. Explore Cadillac »
Mercedes-Benz is keeping deals steady, which isn't a surprise. 2018 models are starting to arrive, but the automaker isn't necessarily offering a ton of discounts. For example, the 2018 CLA250 has the exact same lease as the 2017 model at $339 for 36 months and $3,633 at signing. Explore Mercedes-Benz »