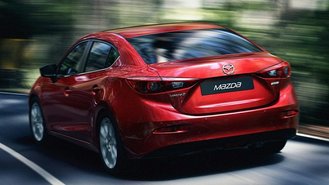 If you're shopping for an economical car that's fun to drive, the Mazda Mazda3 is probably on your shopping list. Its remarkable handling and fuel efficient design have been a hit with shoppers. But when it comes to deals, offers from Mazda have skewed toward finance and lease offers. In an unusual move, the automaker has changed tactics by transitioning to traditional rebates. Here's what you need to know.
Discounts you didn't see
Big rebates certainly appear to be the norm these days, even on small cars. Automakers like Chevy and Ford are known for piling on discounts- as much as $2,000 on even small cars like the Cruze and Focus, and that's before dealer discounts.
However, not all automakers use such tactics- Mazda and Honda are known for using unadvertised offers referred to as dealer cash. This type of incentive is intended to protect brand image and resale values.
The key difference with standard rebates is that dealers have discretion over how much of that money to keep as profit or pass along to shoppers. However, this month Mazda has essentially thrown that out the window in favor of attractive rebates on the Mazda3.
Side-by-side: top small sedans>>
Not the first time
This wouldn't be the first time Mazda tried this. We last saw this type of shift back in early 2013. Mazda lasted about five months before giving up and reverting back to dealer cash.
The first sign of a shift back to rebates was earlier this year in March when Mazda added a $4,000 discount on the CX-9, more than just about any competitor. The change was effective- last month, sales of the CX-9 were up 20% over the previous year according to Automotive News.
Read our buying analysis on the CX-9>>
Where the best deals are
When it comes to the Mazda3, the best deals are on the sedans. Unfortunately, hatchbacks continue to be excluded from rebates.
Shoppers will see the best discounts on iSport and iTouring versions of the sedan, with $1,000 rebates. All other sedans get a smaller discount worth $750.
The sedan also equates to a superior deal when it comes to leases- this month's offer is $149 per month for 36 months and $1,999 due at signing. The Mazda3 was barely edged out by the Honda Civic as a top lease pick in our monthly ranking of best lease offers.
See Mazda3 deal breakdown by trim level>>
Our take
Low gas prices are creating a tough situation for automakers when it comes to compact cars. Over the past several months, offers on competitors like the Civic have heated up. The Civic currently has up to $1,250 in unadvertised discounts to help spur sales.
Competitive offers on the Honda Civic, Subaru Impreza, and Mazda Mazda3 give shoppers excellent choices this month on fuel efficient small cars. The new price point for small car leases has fallen to $150 per month with $1,999 due at signing.
It's too early to tell what the long-term impacts of Mazda's changes will be. However, what's clear is that they're willing to take the gloves off to improve sales heading into summer.
Get a customized quote on the Mazda3>>
Incentives listed here are based on a resident in Southern California. Lease offers are based on top-tier credit and exclude tax, license, title, registration, document fees and insurance. State-level incentives can vary, so please check with your CarsDirect Trusted Dealer to confirm all available offers in your region.
Visit our CarsDirect Pricing Insider page for pricing and deal analyses for over 300 models. Sign up for email alerts to have our analyses delivered straight to your inbox. Browse our Deals Articles for insider info on the latest new car incentives that can save you money.