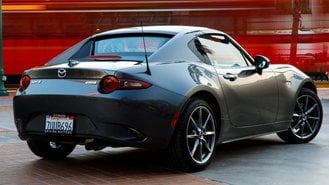 If you've been dreaming of bringing home a new Mazda, leasing can be a great alternative to buying. In some cases, factory discounts may actually favor leasing.
However, there are some advantages and disadvantages to leasing a Mazda. Here's a look at some we think are worth knowing about before heading to the dealer.
Advantages of Leasing a Mazda
Enhanced Loyalty Discount
Although Mazda's loyalty discount is typically $500, you can enjoy a larger bonus worth $750 from Mazda Capital Services when going from one Mazda lease to another.
In addition to being stackable with other incentives, one of the nicest aspects of the offer is that it can be applied toward vehicles that typically don't see many discounts like the Miata RF.
Certain Models Are Better To Lease
Some Mazdas are considerably better to lease than to buy. For example, this month's best deal for purchasing a CX-5 here in Los Angeles is 0% APR for 60 months or a $750 rebate. However, the discount for leasing is worth $2,620.
Mazda offers a $500 Military Appreciation Bonus for active duty military as well as those who've retired within the past 2 years.
What's nice is that the discount can be transferred to members of the same household who live at the same address.
Promos can vary month to month. Model year changes, holidays and availability all play a part in the types of offers you'll see. Get a handle on current rebates, financing rates and lease specials with our monthly analysis.
Disadvantages of Leasing a Mazda
Offers Vary Heavily By Region
Like many brands, Mazda promos often vary by region. Generally, the automaker offers better rebates in some areas and better leases in others.
For example, the CX-5 is currently listed at $199 for 36 months with $1,999 due at signing here in Los Angeles. At the same time, the featured lease in Houston is $20/month more expensive.
Areas that tend to see more favorable Mazda leases include: Boston, Charlotte, Cleveland, Denver, Los Angeles, Miami, New York, Philadelphia.
On the other hand, regions that tend to get more favorable rebates for buying include: Atlanta, Chicago, Dallas, Houston, Phoenix, San Francisco, Seattle and others.
Unlike competitors, Mazda currently doesn't offer any sort of rebate for recent college grads.
For example, Toyota offers $750 off select models to those who've graduated in the past 2 years or intend to within 6 months.