Finding a true driver's car can be a difficult task, with a number of road-hugging models to consider. However, purists may already know the old adage: "Miata is always the answer." Unless you're looking for a discount.
Special offers are incredibly rare on the MX-5. That's all changed in April with an unusual $1,500 incentive on remaining 2016 Miata inventory. Combined with other discounts, there's potentially $2,000 in cash available right now.
So what does the deal involve? Are there regional restrictions? How do you save the most amount? And what kinds of alternatives are there at the moment?

Here's what you need to know.
Offer Details
Starting April 4, Mazda is offering a $1,500 bonus in western states like California on all remaining 2016 MX-5 Miatas. Based on our analysis, there's still a good amount of cars still left in stock at dealers now that the all-new Miata RF has arrived.
If you're a current Mazda owner, you may be eligible for a $500 loyalty bonus, which brings the potential savings to as much as $2,000. And that's before negotiating down the price at your local dealer.
Since dealers are eager to make room for new stock, it's a good bet you'll be able to get a great price. That's completely different from what we've been seeing with the 2017 Miata RF, which has been commanding very high prices and has no factory discounts.
One of the larger local dealers here in Los Angeles is listing 37 Miatas in stock, 32 of which are last year's model. That's over 85% of their total Miata inventory. If you're looking to buy before they become hard to find, now is the best time to do so.
Current offers are set to expire May 1, 2017.
Our Take
If you've been pining for a Miata, now is a great time to scoop up last year's model at a bargain. We never see factory discounts this large. Current Mazda owners stand to gain an even sweeter deal by taking advantage of the loyalty discount.
It's highly unlikely we'll see a similar offer on the 2017 MX-5 anytime soon, especially given how popular the new Miata RF has been. The only real incentive on the 2017 model is 1.9% financing for 60 months.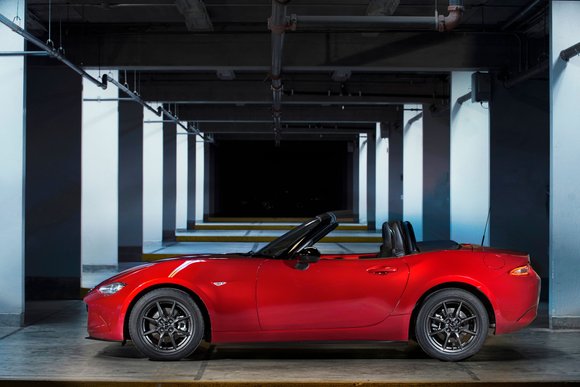 If you're looking to lease, your choices are limited. Mazda cancelled advertised leases on the 2016 Miata several months ago.
The 2017 Miata Club Soft-Top with manual leases from $369 for 36 months with $1,999 due at signing. The RF Club Hard-Top with manual leases from $479 with the same term and upfront amount.
The effective cost for the soft-top is $425/month, while the RF comes in at $535. As we've come to expect with this model, these rank as poor values given the vehicle's MSRP.
Notable alternatives include the FIAT 500 Abarth ($372), Subaru BRZ ($384) and Toyota 86 ($385). However, if you're a Mazda purist, you may already know the answer.