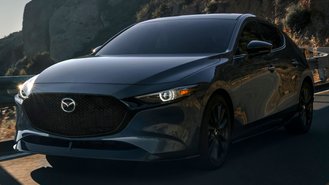 Mazda is planning to quietly cut its mileage allowance on every one of its leases to just 10,000 miles a year. According to a recent letter sent to dealers, featured leases on the brand's website will switch from 12,000 mile-per-year deals beginning this Friday, resulting in monthly payments up to $14 cheaper than they are now.
The news comes less than a day after we learned BMW changed its advertised mileage allowances to just 7,500 miles-a-year here in California. In Mazda's case, the change is set to take effect nationally starting on December 11. Based on our analysis, consumers will find lower payments ranging between $6 to $14 a month.
For example, in the case of a 2021 CX-30, the company says this will lower the relatively new SUV's payment from $195 for 36 months to just $189 in states like California with the brand's best leases. Elsewhere, the payment will fall from $215 to $209. In both cases, that equates to a $6/month price cut when leasing.
The 2021 CX-9 Signature is poised to benefit from the biggest cut in payment from $480 to $467/month in so-called "lease states." Everywhere else, the payment will fall from $500 to just $486. The changes amount to price cuts of $13 and $14/month, respectively. The moves have some important pros & cons for consumers.
Although being able to tailor a lease to your driving habits is nothing new, lower advertised payments could boost interest among shoppers. For example, the highly-rated 2021 Mazda3 will soon feature a payment as low as $183/month while the popular CX-30 could seem like an outright bargain at just $189/month.
It's also important to note that consumers may find a clear correlation between a lower mileage limit and a cheaper payment. That actually wasn't the case when Honda rolled out similar changes just this past summer. Models like the bestselling CR-V actually maintained the same payment despite offering fewer miles.
Having said all of that, shorter leases may not be for everyone, especially if things improve with the pandemic.
If you exceed your allotted miles, Mazda's overage charge is $0.15/mile and would total $900 if you ended up driving 12,000 miles a year. In contrast, a savings of $6/month would amount to just $216. This may beg the question as to whether or not shoppers should just pay for a 12,000-mile lease from the start.
Mazda isn't the only brand tweaking payments to appeal to consumers. Lincoln and Lexus rolled out 5,000 mile-per-year leases a few months ago and Hyundai has been offering 10,000-mile deals for over a year. Nissan recently expanded 10,000-mile offers while Toyota is offering special residual values on 39-month leases.
Current Mazda offers end on January 4.