Mazda is making it easier for Mazda3 drivers to upgrade to the latest & greatest. As of yesterday, owners & lessees of any Mazda3 are eligible for a $750 discount on any version of the redesigned 2019 Mazda3. The offer is available whether you're buying or leasing and can be transferred to members of the same household.
According to a letter sent to dealers, the promo can be stacked with the brand's existing loyalty discount and doesn't require a trade-in. As a result, those eligible for both offers can now enjoy $1,500 in combined savings. Considering there are no standard rebates to speak of, we consider it a particularly good time to buy.
Unlike regular incentives that can change month-to-month, the upgrade offer is set to expire September 3. No other Mazda models appear to be eligible for the same type of incentive. Despite the car's sporty appeal, sales of the Mazda3 have suffered as part of a broader slump for the brand in North America.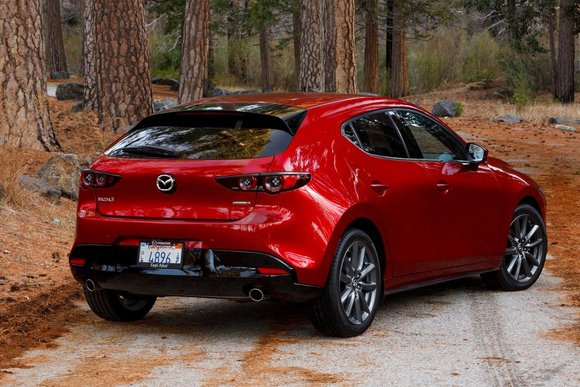 Last month, the brand posted a 15.4% drop in year-over-year sales, with the Mazda3 experiencing a 19.7% fall in units sold. With competitors like the redesigned 2020 Toyota Corolla and Honda Civic offering buyers strong alternatives right now, it appears Mazda is hoping to prevent owners from defecting.
That said, Mazda is continuing to take a restrained approach when it comes to discounts. There are still no rebates on the new Mazda3 even though the outgoing 2018 model has practically sold out. To make matters worse, our analysis finds the new Mazda3 is excluded from Memorial Day offers in most parts of the country.
While no one can predict what Mazda will do next month, there's certainly room for improvement. Some of the better small car discounts right now include the 2019 Hyundai Elantra with up to $3,000 in savings and the 2019 Kia Forte with 0.9% APR for 72 months plus up to $1,000 on specially-tagged inventory.