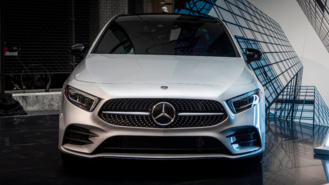 The all-new A-Class aims to bring some excitement back to the entry-level end of the luxury segment. This month, incentive bulletins from Mercedes show the automaker has unveiled the model's first lease deals. Interestingly, a close look reveals that pricing falls just above the CLA.
The 2019 A220 is listed at $359 for 36 months with $3,653 due at signing. That's based on an MSRP of $34,045 and an allowance of 10,000 miles per year. Factoring both the payment and amount due at signing, the car's effective cost comes out to $460/month.
At the same time, the 2019 CLA250 Premium (MSRP $35,895) is listed at $349 for 36 months with $3,797 at signing for an effective cost of $454. That makes the CLA $6/month cheaper to lease despite having a sticker price over $1,800 more expensive.
So why does a less-expensive car cost more to lease? The answer lies in the details.
Leasing bulletins from Mercedes show the A-Class benefits from a higher residual value of 60% (compared to 57% with the CLA). However, the money factor for the A-Class is substantially higher at 0.00139 (or about 3.3% APR). The CLA is listed at 0.00042 (or 1% APR).
So does this mean that the CLA is a much better deal? Not exactly.
That's because Mercedes is offering a credit worth up to $500 on your first A-Class payment, something you can't get with the CLA. As a result, the A-Class could be a smarter choice for shoppers craving the latest features next to the CLA, which has largely remained the same since 2014.
If you're leasing at non-promotional rates or buying your CLA outright, expect to see a much larger difference in price.
You won't see it advertised, but Mercedes is offering up to $2,000 in dealer cash incentives this month on the CLA. Dealers aren't obligated to pass it along, but there's undoubtedly heightened potential for a nice discount as we approach Presidents' Day.