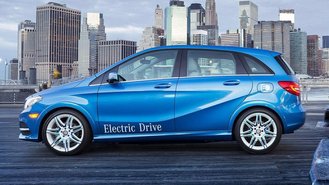 In the luxury segment, advertising discounts is frowned upon because it hurts a brand's image as well as resale values. That doesn't mean you can't get a deal- Mercedes-Benz is using unusual certificate incentives to discount cars without advertising it.
We think this month's $5,000 dealer certificate on the 2014 B Electric Drive is worth taking note. Why? Because it can be combined with heavily subsidized lease deals. Here's what you need to know.
Mercedes-Benz B Electric Drive Photos>>
This month's offers
Through April 30, you can lease a 2014 B Electric for $299 per month for 36 months with $4,093 due at signing. The offer comes with a mileage cap of 10,000 miles per year. As far as deals go this isn't bad, but the amount due at signing is a bit off-putting.
Most current EV lease deals require an amount due at signing of around $2,500. Some, like the Chevy Spark EV, even have $0 down lease offers without a prohibitively high monthly payment. You can get a $0 down lease on a B Electric, but the monthly payment balloons to $406.
Compare specs for top battery electric cars>>
A potentially better deal
If the $4,093 due at signing makes you wince, you might want to consider that dealers are eligible for a $5,000 certificate they can use to improve your price. However, the number of certificates varies because it's based on the dealer's sales history.
This is a case where it can really pay to obtain quotes from multiple dealers. If you find the right combination of a dealer that stocks the car and is motivated, this can equate to an unusually good deal, potentially even better than the $239 per month lease on the 2014 BMW i3.
The i3 may look like something sent back from the future, but the B-Class has better range (87 miles vs. 81 miles) and a more powerful Tesla-supplied battery. The heavier weight of the B-Class makes it less efficient, however, with only 84 MPGe (combined city/highway) versus 124 MPGe on the base i3.
Side by side: Mercedes-Benz B-Class vs. BMW i3>>
Benefits of being green
EV ownership continues to be heavily subsidized. Federal tax credits worth up to $7,500 are supplemented in many cases by state programs like California's $2,500 Clean Vehicle Rebate.
Commuters in states like California can also qualify for unrestricted carpool lane access. The perks don't end there- cities like Santa Monica offer free parking for EVs, and an increasing number of stores and workplaces offer free charging.
The best green car deals this month>>
Our take
Although certificate incentives are at a dealer's discretion and your mileage may vary, this month's programs can potentially mean serious savings on a B Electric Drive. The car may not be the most efficient compared with other EVs, but it offers one of the few viable options for shoppers demanding luxury with the full range of benefits that come with EV ownership.
Get a custom lease quote on the B Electric Drive>>
Looking for the best way to keep track of purchase and lease deals? Check out our CarsDirect Pricing Insider and Deals Articles pages for tips and advice on picking the right time to buy or lease your favorite car or truck.