Like many other automakers, Mitsubishi is now offering 10,000 mile per year leases. In most cases, a lower mileage allowance means cheaper payments and a better deal. While Mitsubishi models do feature some of the lowest payments we've seen on the models, most offers remain bad values relative to MSRP.
Compared to February, monthly payments have dropped over $20 on some models. However, monthly payment alone doesn't paint the whole picture. Taking into account the amount due at signing plays a large role in affordability as well. For some Mitsubishi models, amounts due at signing have increased which counters the effect a lower mileage allowance has on monthly payment.
For example, the 2021 Mirage ES CVT ($16,865 including destination fees) is now available for $189/month for 36 months with $3,388 due at signing for an effective monthly cost of $283. Compare that to last month's offer of $199/month for 36 months with $3,184 due at signing and an effective monthly cost of $286. Thanks to the large increase in due at signing amount, the Mirage is effectively only $3 cheaper with the lower mileage and is still a poor value relative to its MSRP.
While the Mirage is rarely a good deal when leasing, we would expect a better value with the mileage change. For reference, with its effective monthly cost of $283, the Mirage is still more expensive to lease than larger and more expensive options like the Honda Civic ($260), Chevrolet Blazer ($274), and the Subaru Crosstrek ($279).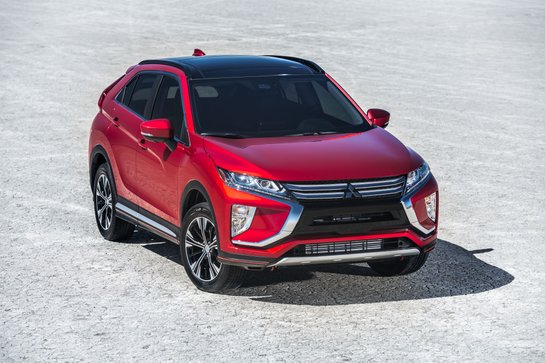 On the other hand, the 2020 Eclipse Cross sees the best enhancement in the lineup. Starting from $227/month for 36 months with $2,976 due at signing (previously $229 with $3,978 down) equating to an effective monthly cost of $310, which is $30 cheaper than back in February. Unfortunately, despite being more affordable than last month, it's still a poor value relative to its $24,335 MSRP. However, it's the best offer we've seen on this vehicle in recent months which likely has to do with the refreshed 2022 Eclipse Cross that will be arriving at dealers soon.
It's not all bad news though as the 2021 Outlander Sport presents the only good value option. This month, the ES 2.0 FWD model is available from $217/month for 39 months with $1,941 due at signing for an effective monthly cost of $267. That's $21 cheaper than last month's offer which included 12,000 miles per year rather than 10,000. With a price tag of $24,190, this is an excellent deal.
It's a bit disappointing that Mitsubishi's decision to lower mileage allowances didn't result in some better deals, especially when it's one of the later brands to do so. Lexus and Lincoln began offering low mileage leases of 5,000 miles/year back in August 2020. Mazda enhanced its lease offers to 10,000 miles in early December 2020, while Subaru and Nissan followed suit later in the month.
Shoppers should note that the 2020 Outlander and Outlander PHEV still feature 12,000 miles/year allowances.
Current offers are available nationally and expire March 31.