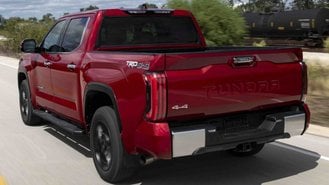 The most-expensive lease on the all-new Tundra could cost shoppers up to $875/month, according to Toyota's online payment estimator. However, our analysis finds that the completely redesigned pickup does benefit from high residual values that could help make it an exceptionally good truck to lease this month.
At the top of the range, the 2022 Tundra 1794 has an estimated lease payment of $834 for 36 months with $1,484 due at signing. That's based on an MSRP of $62,715 with destination, for the 4x4 CrewMax with i-FORCE MAX with "no cash out of pocket." The truck's hybrid engine promises 437 hp with 583 lb-ft of torque.
Here, Toyota's definition of "no cash out of pocket" refers to the fact that it doesn't include a down payment. The $1,484 due at lease signing is based on the first month's payment and acquisition fee of $650. It's possible to lower your monthly payment by putting more money down, although this isn't always recommended.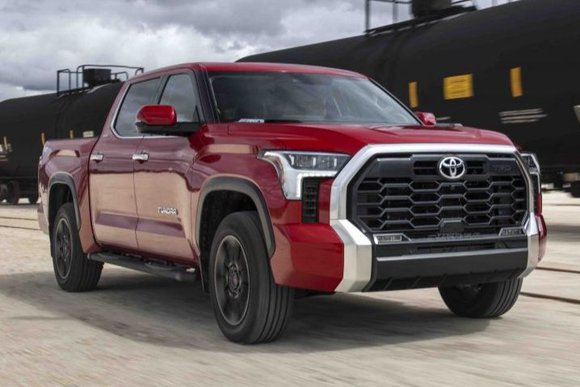 With an effective monthly cost of $875 before taxes & fees, this may seem like an expensive lease. However, it may actually be a good deal next to similarly-priced pickup trucks. For example, a comparable lease on the 2022 RAM 1500 Limited 4x4 Crew Cab and MSRP of $64,255 has an effective cost of about $1,065/month.
That's a difference of $190/month despite the fact that the Tundra has a similar MSRP. As we reported last month, Tundra residual values are exceptionally high and could make it a better value. Having said that, a higher-end TRD Pro variant is expected next year and could become the most-expensive Tundra we've ever seen.
If you aren't looking to spend over $800/month on your next truck lease, we are seeing an early deal at a lower price. In the Southeast, Toyota is advertising a $359/month lease deal on the 2022 Tundra SR5 with an effective cost of $461. For the money, we consider that a very good deal for a completely-new truck.
Unfortunately, the possibility of Tundra dealer markups could make these deals hard to take advantage of. We recommend checking with your local dealers to learn what real-world Tundra lease prices look like. Even though you may be able to take advantage of high residual values, actual prices may be higher than you think.
Examples based on prices in Southern California unless noted otherwise