Lincoln surprised everyone with a new 400 hp variant of its MKZ sedan at the LA Auto Show last year. For the 2017 model year, the automaker is adding some serious performance credentials to help distinguish its bestselling model and attract some much-needed attention.
Now that official pricing has been released, we're able to make some comparisons. So how much will the new car cost? How expensive is it relative to similar vehicles? And where are the deals? Here's what you need to know.
Pricing revealed
Order guides show the 400 hp 2017 Lincoln MKZ will start at $43,575 with destination, a $4,000 premium over the base 2.0-liter engine. Shoppers will need to opt for all-wheel drive to get the top-spec powerplant, which will eventually be used in the reborn Continental later this year.
A less potent 350 hp version of the same 3.0-liter twin turbo will be offered on front-wheel drive models. It will start at $40,435, or $2,750 more than the base engine.
The new mill replaces the current 3.7-liter V6 and will only be offered on Select, Reserve and Black Label models. Entry-level Premier versions will not get the option.
Compared to the current car, a similarly-equipped 2017 MKZ with the new engine will be $1,085 more expensive than the outgoing V6 with front-wheel drive and $2,335 pricier with all-wheel drive.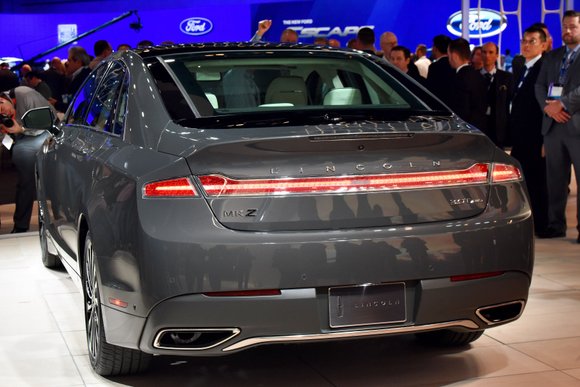 How it stacks up
For illustrative purposes, here's a comparison of the new version of the MKZ against some 4-door sedans one usually thinks of when considering high horsepower, as well as some other cars in the segment.
| | | | | |
| --- | --- | --- | --- | --- |
| Vehicle | Drive Type | Engine | Output | MSRP |
| 2017 Lincoln MKZ Select | AWD | 3.0L Twin-Turbo V6 | 400 hp, 400 lb-ft | $43,575 |
| 2016 Ford Taurus SHO | AWD | 3.5L Twin-Turbo V6 | 365 hp, 350 lb-ft | $41,150 |
| 2016 Dodge Charger R/T Scat Pack | RWD | 6.4L V8 | 485 hp, 475 lb-ft | $40,990 |
| 2016 Chevrolet SS | RWD | 6.2L V8 | 415 hp, 415 lb-ft | $48,870 |
| 2016 Lexus GS 350 | RWD | 3.5L V6 | 311 hp, 280 lb-ft | $50,950 |
| 2016 BMW 528 | RWD | 2.0L I4 | 240 hp, 260 lb-ft | $51,545 |
Note: Prices include destination charges
Where are the deals?
Sales incentives can have a significant effect on real-world pricing. For example, the 2015 Ford Taurus SHO currently has up to $4,750 in factory cash back. That's before even factoring dealer discounts, which could be substantial.
For a bit more flair, the 2016 Dodge Charger R/T Scat Pack features a more modest $500 cash back, or $1,000 if you opt for the 2015 model still on some dealer lots. There's also a $1,000 bonus if you currently lease a competitor. That's up to $2,000 in available savings.
The Chevrolet SS is a different story, assuming you can even find one. The car continues to be very hard to find but features a modest $500 cash back on either the 2015 or 2016 model. Earlier this month, GM offered a rare $1,000 bonus for Presidents' Day to shoppers coming from a competitor.
The Lexus GS 350 and BMW 528 are considerably more expensive, even before adding popular options. Lexus doesn't offer rebates, but the automaker is giving dealers up to $6,500 in unadvertised dealer cash incentives to help clear 2015 inventory. Meanwhile, the 5-Series has a modest $1,000 bonus plus low APR.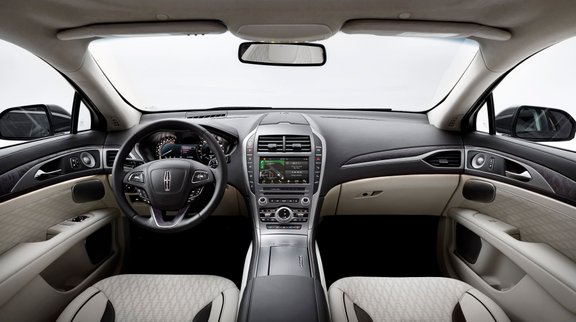 Planning ahead
Offers on the 2017 MKZ haven't been announced yet, but it's a good bet that Lincoln will have some aggressive incentives. The MKZ tends to rank well when it comes to deals, most notably with lease discounts.
The current model currently features as much as $6,250 in lease cash- considerably more than competitors. As a result, it routinely ranks well in our monthly roundup of the best leases.
Another type of deal to look out for is the conquest bonus. Lincoln tends to use this type of offer heavily to attract shoppers coming from other brands. The savings can be substantial- the 2016 MKZ currently features up to $2,750 in discounts.
Will the new 400 hp MKZ be excluded from promotions? Probably not. Lincoln rarely uses exclusions- even top-spec Black Label models qualify for nearly the same discounts as standard models.
Learn more about the Lincoln MKZ >>
For an easy way to find the best deals, visit the CarsDirect Deals Page for the latest deal-related news and analyses. Browse expert buying advice updated monthly on almost 300 models for insider insights you'll only find at CarsDirect. Be sure to sign up for email alerts to have the latest deals delivered straight to your inbox.
Offers listed here are based on a resident in Southern California and may be subject to change. Most lease offers are for well-qualified buyers based on available credit and exclude tax, license, title, registration, document fees and insurance. Not all buyers may qualify. Please check with your CarsDirect Trusted Dealer to confirm details and eligibility.