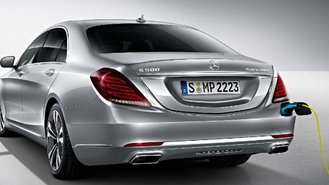 Few automakers can say they wrote the book on luxury like Mercedes-Benz. A redesign of the flagship S-Class raised the bar within the segment. A new plug-in hybrid version goes on sale this month that sets the stage for the adoption of plug-in technology across the automaker's lineup later this year. However, recent changes to the automaker's website reveal something unusual- the S550 Plug-in Hybrid will start at the same price as its gas-powered equivalent. Here's what you need to know.
An unusual pricing choice
According to the Mercedes-Benz website, the 2015 S550 Plug-in Hybrid will start at $95,325, including a $925 destination charge. Oddly, this price is identical to the gas-powered S550.
What's interesting is that Mercedes-Benz is taking away the premium traditionally associated with the added technology. The car's 80-kW electric motor and lithium battery support up to 18 miles of electric driving. In comparison, the Toyota Prius Plug-in has a range of just 11 miles. Fuel economy ratings have not yet been announced.
Read our full preview of the S550 Plug-in Hybrid>>
Another LS 600h?
When it comes to a greener-sounding option on a full-size luxury car, the closest competitor is probably Lexus LS. The bar is arguably set quite low- the LS 600h has nearly a $45,000 premium over the gas-powered LS 460 and gets nearly identical overall fuel economy of 21 mpg.
The LS 600h is slightly more powerful versus the gas version but has three times less cargo space than a Fiat 500. The car is almost inconsequential for Lexus- it sells in such small numbers that it's rarely stocked by dealers. Will the S550 Plug-in suffer the same fate?
Side-by-Side: Lexus LS 460 vs. Lexus LS 600h>>
Sign of things to come
The S550 Plug-in will almost certainly be a niche vehicle. This month the car goes on sale in California with a delayed release in 9 other states later this year. The automaker has started taking orders on their website.
More importantly, the car signals a shift toward plug-in technology across the automaker's lineup. The C350 Plug-in and GLE550e (aka ML350) will go on sale this fall. Mercedes-Benz has a head start on BMW, which has committed to offering a plug-in version of nearly all of its models.
See the current Mercedes-Benz lineup>>
Our take
Having a greener option at the top end of the luxury class is undoubtedly a good thing. By eliminating the price premium over the gas model, Mercedes-Benz is making an interesting move unlike competitors. It will be interesting to see how well the automaker's new plug-in models resonate with luxury shoppers despite persistent low gas prices heading into the latter part of the year.
See the best green car deals this month>>
Incentives listed here are based on a resident in Southern California. Lease offers are based on top-tier credit and exclude tax, license, title, registration, document fees and insurance. State-level incentives can vary, so please check with your CarsDirect Trusted Dealer to confirm all available offers in your region.
Visit our CarsDirect Pricing Insider page for pricing and deal analyses for over 300 models. Sign up for email alerts to have our analyses delivered straight to your inbox. Browse our Deals Articles for insider info on the latest new car incentives that can save you money.