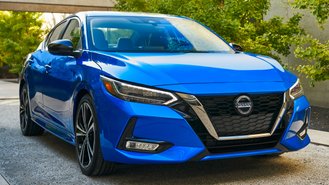 Nissan has cut auto loan rates across much of its lineup in its latest bid to help shoppers amidst the coronavirus. According to incentive bulletins sent to dealers today, the brand is now offering car deals involving 0% APR financing for up to 84 months on select models. But there's a catch.
Offers in 7 different regions show the 84-month deal is limited to the slower-selling 2019 Frontier and Titan trucks. That said, yesterday's 84-month offer on the latter was 2.9% APR. With a $40,000 truck, our analysis finds this translates to a savings of over $4,200 in interest.
That's a substantial difference in cost. But that's not all. Titans are also eligible for a $1,000 bonus for financing through Nissan Motor Acceptance Corp. (NMAC) that didn't exist at this same time last month. This marks the best deal to date on the brand's largest truck.
Similarly, the recently-introduced 2020 Sentra is now eligible for 0% APR for 60 months plus a $500 bonus here in Los Angeles. Previously, 0% financing for Nissan's newest car was largely limited to 36 months. This can result in a major advantage when it comes to affordability.
With a $25,000 car, a 5-year loan at 0% APR can result in a much lower payment with no significant increase in total cost. For example, a 3-year loan with $0 down comes out to $694 before taxes & fees while a 5-year loan comes out to $417 (a difference of $277/month).
A broader analysis reveals the biggest rate cuts range between 0.9% to 2.9% APR. Other noteworthy models offering lower rates include the 2020 Altima and Maxima (1.9% to 0% for 60 months), the 2020 Murano (0.9% to 0%), and the budget-priced 2020 Kicks (2.9% to 1.9% APR).
Having said all that, our analysis finds Nissan's offers fall short of its competitors.
GM is continuing to offer 0% APR for 84 months on many of its vehicles, while FCA has extended a similar offer. Meanwhile, Subaru is still offering lower rates on every model, while VW is still promising 0% for 72 months plus no payments for 6 months across its lineup.
Will better deals emerge? That remains to be seen. Brands like Toyota have taken a conservative approach by not cutting rates at all in response to COVID-19 even while competitors introduce new and unprecedented offers to help consumers impacted by the coronavirus.
Stay tuned for our ongoing coverage of the latest offers.