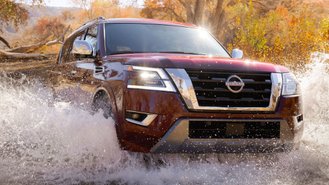 Nissan is compensating dealers that get consumers to take out bigger and longer loans, according to a letter recently sent to dealers. While the brand appears to be taking steps to keep dealers happier in 2021, the move may incentivize pushing buyers toward more expensive models as well as loans up to 84 months in length.
In what Nissan is calling "the future of NMAC Dealer Compensation," the brand has opted to pay dealers a fee equal to 1% of the amount financed when buyers take advantage of promotional financing. By the company's own estimates, this could more than double a dealer's compensation when a buyer opts to finance.
On a $32,285 car loan, Nissan says the offer can amount to a manufacturer-to-dealer payment of $323 compared to the previous $150 flat fee. While there's a lot of fine print, we did notice that Nissan is promising dealers as much as a $450 fee when consumers choose to take out an 84-month loan at non-promotional rates.
So what could this mean for consumers? First, if a dealer's paycheck is more dependent now on the amount being financed, buyers could end up being steered toward more expensive models. It's also possible that some dealers may be less inclined to stock affordable models and entry-level vehicle configurations.
There's also the possibility that buyers could be pushed toward 84-month financing, which isn't for everyone. While 7-year loans can promise lower monthly payments, they could increase a consumer's chances of ending up owing more money than their car is worth, a term known as being underwater on a loan.
Things could be more problematic if you have bad credit. For example, Nissan's online payment calculator lists a 72-month rate of 14.9% for the Nissan Sentra if you have a FICO score under 620. On a $20,000 car, we estimate this could entail over $10,300 in interest and end up costing $30,370 before taxes & fees.
Nissan recently doubled down on subprime financing and reportedly took steps to make its dealers happier by eliminating so-called stair-step incentives criticized for driving down prices. While more compensation could be a good thing for dealers, that may not prove to be the case for consumers looking to get a deal.