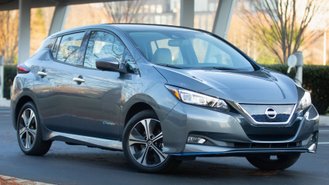 Nissan has quietly eliminated the buyout option on EV leases. According to a bulletin sent to dealers, Nissan's EV lease purchase option was discontinued on December 12th. In addition to taking away the ability to purchase the Nissan LEAF at the end of a new lease, this also affects the all-new Ariya electric SUV.
The policy change may come as a surprise for EV shoppers looking to lease the long-awaited 2023 Nissan Ariya. However, it does resemble similar moves we've seen from other electric vehicle makers. For example, Tesla eliminated the lease-end purchase option in April and Ford followed suit soon thereafter in June.
Nissan spokesperson Dan Passe confirmed the change for CarsDirect this afternoon via email with the following statement:
"Nissan's commitment to building sustainable and affordable Battery Electric Vehicles (BEVs) by creating technology to refabricate, recycle, resell and reuse the EV batteries spans more than a decade. The adjustment to our lease agreement marks the latest move toward our commitment to becoming carbon neutral by 2050 by creating second-life opportunities through our controlled disposal and harvesting process."
If that language sounds familiar, it's not your imagination. Back in June, Ford cited reduced battery supply chain costs as its reason for ending lease buyouts on the Mustang Mach-E and all-new F-150 Lightning. Ford made the case that this could be both better for the environment and help lower vehicle costs for consumers.
But is the lack of a buyout option really a good thing? Buyouts offer a way to buy your vehicle instead of returning it at the end of a lease. In recent years, lessees have had an advantage since their buyout prices were negotiated prior to the inventory shortage which has resulted in record-high transaction prices for cars.
In the case of the Nissan Ariya, the lack of a buyout option could be yet another reason to buy rather than lease from the start. That's because Ariya lease rates are currently near 9% APR. In addition, our analysis found that Ariya interest rates can actually be better than the LEAF in some cases based on current offers.