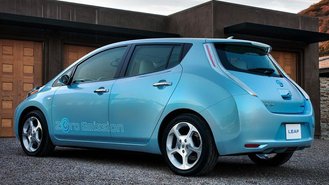 Last month, the Nissan LEAF hit a milestone by surpassing the Chevy Volt as the best-selling plug-in car in the U.S. Without a doubt, the $199 lease we've seen for months has played an important role in making the $29,000+ LEAF accessible to more shoppers. However, changes this month following a hit in residual values suggest Nissan is going to extreme lengths to keep payments attractive. Here's what you need to know.
Jump in lease cash
Lease incentives are generally used to lower the monthly payment or amount due at signing on a lease vehicle. We see this to some degree from most automakers each month.
For May, Nissan boosted lease cash incentives as much as 35% on the LEAF. The SL model got the largest incentives- up from $9,350 to $12,600, a huge amount based on what we're used to seeing.
Even the least-expensive S model got a 26% boost to $11,025. So why did the $199 lease deal stay the same in May?
The world of leases often involves subtle changes defined by residual values, money factor (akin to the interest rate), and lease incentives. This month, Nissan changed all three on the LEAF.
Get a custom lease quote on the Nissan LEAF>>
Residual value hit
LEAF residual values tell an interesting story. Last December, Nissan's projected residual value on a LEAF S was 38% after 36 months. Although this was mostly unchanged through April, it got a massive cut in May from 37% to 31%, a 6% drop.
A look at other models in Nissan's lineup confirms the changes on the LEAF are unusual. For example, the residual on the Altima has been roughly flat at around 53% for months. On the Frontier truck, the residual actually increased 4% since last December.
Learn more about getting the best lease deals>>
Money factor hiked
The story doesn't end there. Money factors, the lease equivalent of an interest rate, also got an abrupt change on the LEAF.
From April to May, the money factor changed from 0.00003 to 0.00055, equivalent to a change in interest rate from 0.07% to 1.32%. That might not seem like a lot but it's more than double the highest rate we've seen on the LEAF this year.
Top picks: Best Green Car Deals this month>>
Looking beyond numbers
We're inclined to suspect Nissan is compensating for lower projected residual values on the LEAF with bigger upfront lease incentives. They may be doing this for a good reason- competition.
Last month, Chevrolet announced a $139, zero-down lease on the 2015 Spark EV. The car, sold primarily in California and Oregon, saw a major spike in sales in April- it even outsold the Chevy Volt and beat its previous best sales month by over 5 times with 920 cars sold.
The $199 lease deal on the LEAF has stood firm for months- but how far is Nissan willing to go to keep the lease payment appealing to shoppers? Time will tell. We'll be watching closely and will report any major change in offers.
Side-by-side: Nissan LEAF vs. Chevy Spark EV>>
Incentives listed here are based on a resident in Southern California. Lease offers are based on top-tier credit and exclude tax, license, title, registration, document fees and insurance. State-level incentives can vary, so please check with your CarsDirect Trusted Dealer to confirm all available offers in your region.
Visit our CarsDirect Pricing Insider page for pricing and deal analyses for over 300 models. Sign up for email alerts to have our analyses delivered straight to your inbox. Browse our Deals Articles for insider info on the latest new car incentives that can save you money.