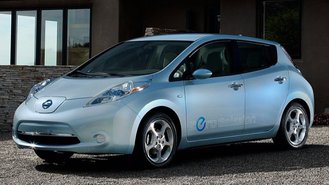 If you leased a Nissan LEAF in 2012 or 2013, chances are you're coming up on the end of your lease. So should you return your car or use your purchase option to buy it? Concerns about battery costs and falling residual values result in a bit of a murky outlook. Nissan is hoping large payoff incentives will persuade current lessees to buy their cars at the end of their lease. Here's what you need to know.
Offer details
The incentive is called the LEAF Gross Payoff discount and is worth up to $5,000 on 2012 and 2013 model year LEAF models. Older 2011 models are eligible for a smaller $1,500 incentive.
On top of this, dealers are able to add their own discount worth up to $1,500. However, dealers can choose to keep this or pass it along to shoppers, so your result may vary.
Based on an estimated payoff amount of $20,000, ideal circumstances can potentially result in a payoff price as little as $13,500. Some owners will find this a compelling option.
Curious about the most recent LEAF? Read our overview>>
Things to consider
Current lessees have a tough choice to make. Return your existing lease and upgrade to the newest model? Or, take payoff incentives to buy the car you've been driving and (hopefully) fell in love with.
Battery cost can be a pain point when considering long-term electric car ownership. However, research from the Department of Energy's Berkeley Lab found that batteries that had lost 20% of capacity could still meet the needs of 85% of drivers.
LEAF residual values also took a big hit in May, falling as much as 6%. It's possible the automaker is seeking to avoid a flood of lease returns from owners not confident in the prospect of buying at the original payoff price.
See this month's best green car deals>>
Our take
There's certainly some uncertainty surrounding the future of used electric car values. We think Nissan's payoff incentive will make keeping a leased LEAF a more compelling option for some shoppers.
Prefer to upgrade to a new LEAF? Get a lease quote now>>
Incentives listed here are based on a resident in Southern California. Lease offers are based on top-tier credit and exclude tax, license, title, registration, document fees and insurance. State-level incentives can vary, so please check with your CarsDirect Trusted Dealer to confirm all available offers in your region.
Visit our CarsDirect Pricing Insider page for pricing and deal analyses for over 300 models. Sign up for email alerts to have our analyses delivered straight to your inbox. Browse our Deals Articles for insider info on the latest new car incentives that can save you money.