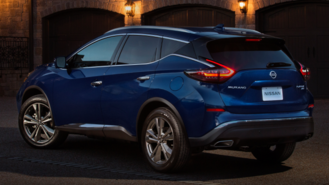 Nissan will raise its acquisition fee for all leases starting April 2, according to a bulletin sent to dealers. At that time, consumers will see the fee rise to $650, a 9% increase over the current charge of $595 for vehicles leased through Nissan Motor Acceptance Corporation (NMAC).
The acquisition fee is essentially like a processing fee, and not all manufacturers are upfront about what the amount is and how it's factored into advertised leases. In some cases, it's included in your lease payment, while in other instances you may find that a lease has you pay it upfront.
At $650, our analysis finds that Nissan's acquisition fee will match that of Toyota and Kia exactly. Honda still charges $595 for leases originated through its captive finance arm, Honda Financial Services. Luxury brands tend to have higher fees; Mercedes-Benz charges $795.
One of the better deals from Nissan at the moment is the 2018 Murano S. Here in California, the featured lease is $279 for 36 months with $1,399 due at signing after applying a $2,000 bonus. With an effective cost of $318/month, that makes it just $11 more expensive than a 2018 Rogue Sport ($307).
Explore the current Nissan lineup »