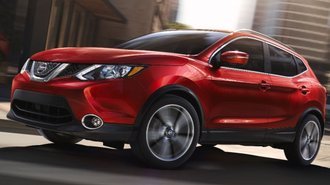 Nissan has made it a lot easier for consumers to lower their monthly payments ahead of the Labor Day holiday. According to a bulletin sent to dealers today, the automaker has cut financing rates to 0% APR for 72 months on select models. Based on our analysis, this can result in a big reduction in the cost of borrowing.
Starting today, all 2020 Kicks, Rogue Sport, Murano, Pathfinder, and Armada models are eligible for interest-free financing for 6 years. Given the fact that none of these vehicles offered an APR deal for 72-months, this represents a major improvement that can save buyers a lot of money when compared to previous offers.
On a $20,000 Nissan Kicks, a 6-year loan at 0% costs approximately $20,000 at $278/month before taxes & fees. Previously, a loan at 5% involved $3,191 in interest at $322/month. Believe it or not, that's actually the best deal that we have on record for the brand's most affordable SUV. But that's not all.
As a bonus, Nissan is continuing to offer additional discounts known as financing bonuses for those taking out a loan through NMAC, its captive financing company. In the case of a Murano, the incentive can be worth as much as $2,500. That's significantly better than what you'll find from brands like Toyota and Mazda.
Although 0% APR deals were common at the start of the pandemic, offers from Nissan haven't been all that great. That said, the fact that popular vehicles like the Nissan Rogue and newer models like the 2020 Sentra and Altima are excluded from today's changes could dampen some of the appeal of buying around Labor Day.
It's also worth noting that leases remain unaffected and that differences in incentives can make leasing an unappealing prospect for vehicles like the Kicks. At $285 for 36 months with $1,999 at signing for the SV trim, its effective cost is higher than that of a 2020 Altima S ($341 vs. $311) despite a big difference in MSRP.
As we've covered before, offers from Nissan generally favor financing. For example, the Rogue Sport offers a choice between $2,000 cash or 0% APR for 72 months plus a $1,000 bonus. On a $25,000 SUV, taking the financing would save roughly $37/month or $1,670 over the course of the loan compared to a rate of 5%.
Having said all of that, buyers should be sure to weigh the risks of taking out a longer loan. Negative equity can create problems if you end up owing more than the vehicle is worth. However, those looking to have their cake and eat it too by reducing their cost and lowering their payment may find now to be a good time to buy.
Current offers end on September 8.