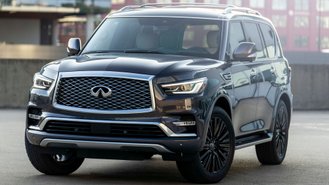 As more automakers cut incentives and raise prices amid a growing car shortage, both Nissan and Infiniti are set to impose limits on who can buy their leased vehicles. The move could serve to protect dealers but may have some big ramifications for consumers.
The changes were outlined in a letter sent out to Infiniti dealers yesterday, stating "To support Infiniti retailers in today's current pre-owned market, IFS will no longer allow non-Infiniti dealerships to purchase lease vehicles grounded by customers at their locations."
The letter adds that this will be a temporary suspension starting next Monday that "will encourage traffic" to dealerships and "boost pre-owned inventory." Nissan spokesperson Dan Passe confirmed for us that a similar message went out to its dealers as well.
In an email, Passe characterized this more as a request rather than a mandate. That said, we think the change could potentially serve to limit a consumer's options if they're currently leasing through Nissan Motor Acceptance Company (NMAC) or Infiniti Financial Services (IFS).
For example, if you're planning to take advantage of high used car prices by having a dealer from a different brand buy out your lease, this could throw a wrench in your plans. If you have equity in your lease, this could be a convenient option that saves you some paperwork.
There may be a way around the rule if you're planning to work with a dealer group that also owns a Nissan or Infiniti store. Nissan notes that there will be "no change requested" for buyouts facilitated by a bank or credit union and no impact on customers exercising their purchase option.
Dealers are clamoring for inventory amid heightened demand with trucks commanding a hefty premium. There have even been reports of dealers paying above MSRP for cars up to 2 years old. Whether or not other brands follow suit with their own restrictions remains to be seen.
Update: Nissan reached out to us to point out that it will work with customers on an individual basis and that those with concerns can contact NMAC at (800) 456-6622 (NMAC) or IFS at (800) 627-4437. As a result, your results may vary if this ends up not being a blanket mandate in practice.