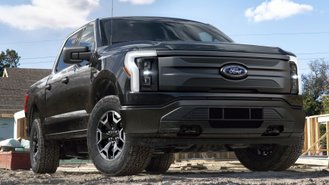 Not every version of the cheapest 2022 F-150 Lightning will be available to the public. Although the entry-level Lightning Pro has a base price of just under $40,000, Ford is actually limiting the availability of a 300-mile extended range option to commercial customers. That could result in a costly upgrade for the average buyer.
With an MSRP of $39,974, the F-150 Pro is the cheapest Lightning trim, designed for fleet buyers but available to purchase by the general public. However, a Ford spokesperson recently confirmed for us that the optional Extended Range configuration (MSRP $49,974) will actually be limited to commercial customers only.
Opting for the Extended Range model boosts the new electric pickup's range to 300 miles (from 230) and increases the estimated horsepower rating from 426 to 563. It's also the only way to achieve the model's maximum advertised tow rating of 10,000 lbs when properly equipped with the available Max Trailer Tow Package.
If you're what Ford calls a regular "retail buyer" in search of the most capability, you'll have to upgrade to an XLT. The bad news is that Ford hasn't announced pricing for the XLT Extended Range. However, if it adds $10,000 just like it does in the Lightning Pro, this could push the truck's price tag to nearly $63,000.
At that point, buyers will be looking at a $13,000 difference in price between a 300-mile XLT and a similarly-equipped Pro. That's quite a step up, although plug-in rebates for the F-150 Lightning could make it more affordable than it seems. Having said that, there are some additional quirks that could affect truck buyers.
As we reported last week, Ford plans to offer the Lightning with the same financing options as the Mustang Mach-E. This could make leasing a bad idea because the company is keeping a $7,500 tax credit for itself. If that becomes the case with the Lightning, it could make leasing less attractive for all types of customers.